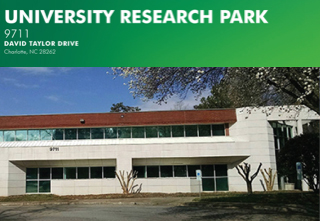 A high-quality freestanding building with ample space for office/warehouse, light manufacturing, data center or operations center is available for sale or lease in University Research Park.
The two-story masonry building at 9711 David Taylor Drive has a total of 39,495 sf, including 18,615 sf of office space and 20,080 sf of warehouse with 20-foot-clear ceiling and three loading docks.
The 4.9-acre site has 115 parking spaces and room for more. The building and site are ready for quick move-in, with new landscaping, freshly cleaned exterior and demolition to open up the two-story office area.
Several high-profile companies have major facilities nearby, including Electrolux's North American Headquarters, TIAA and Duke Energy, which has two office buildings under construction.
Many restaurants and a 12-mile greenway are within a mile of 9711 David Taylor Drive.
Also nearby: I-85 (1 mile), I-485 (3.5 miles), 28,000-student UNC Charlotte (3.5 miles by car or 2.3 miles by greenway) and Charlotte-Douglas International Airport (16 miles).
Contact – Ben Rojahn, vice president, CBRE Charlotte, 704-331-1207 or ben.rojahn@cbre.
Building Features
Location: 9711 David Taylor Drive, Charlotte, NC 28262
Size: 39,495 sf
Acreage: 4.9
Construction: Masonry
Year built: 1988
Zoning: RE-2
Parking: 115 spaces (3.09/1,000; expandable)
Sprinkler: Yes
Floor: Slab on grade concrete
Security: Security fencing/gate allowed (pending review)
Outside Storage: Exterior area available for generators, fuel storage & chillers
Power: Duke Energy, high reliable, scalable power with low cost
Fiber: Zayo, DukeNet, TW Telecom, AT&T, Windstream, Level 3
Warehouse / Production Features
Size: 20,080 sf
Ceiling height: 20′ clear
Column spacing: 38'5.5″ x 36'8″ x 36'8″
Dock doors: 3, with levelers (8'x10′)
Office Features
Location
County: Mecklenburg
Interstate access: About 1 mile to I-85; 3.5 miles to I-485
Distance to CLT Airport: About 16 miles
Utilities
Sewer / Water: Char-Meck
Power: Duke Energy
Gas: Piedmont Natural