University City Partners is proud to introduce our "Class of 2016" – our fall semester interns from UNC Charlotte. Seniors Hollis Maye-Keye and Cagney Reeves will help us with communications and planning – key functions for our success.
We encourage you to consider UNC Charlotte interns, as well, for your own business needs. Meanwhile, learn more about Hollis and Cagney.
Meet Hollis Maye-Key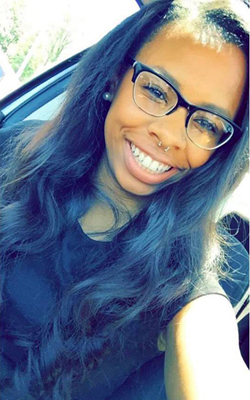 My name is Hollis Maye-Key and I'm a senior at UNC Charlotte.
I'm pursuing a BS degree in Geography, a minor in Environmental Science, with a concentration in Urban and Regional Planning.
Following graduation in December, I plan to attend graduate school focusing on urban studies and sustainability planning. I would like to become an urban planner or a planner for renewable energy.
Growing up in Washington D.C., I've had many experiences that have allowed me to become exposed to different careers. I've completed a two-day alternative energy program at the Department of Energy. I've completed an internship at the Student Youth Employment Program, working as a site coordinator for the community's youth.
Here at UNC Charlotte I participated in the university's annual Geography Science Fair.
I'm beyond excited to be interning here at University City Partners and I plan to bring an innovative mind and spirit to make a great impact on our community!
Meet Cagney Reeves
My name is Cagney Reeves, and I am a senior at UNC Charlotte.
My major is communications studies, public relations, with a journalism minor. I am very interested in social media marketing and event planning specifically, and hope to get more experience with those through my internship with University City Partners.
I am from a small town in the mountains of North Carolina called West Jefferson, about 25 miles away from Boone. I enjoy traveling, shopping and spending time with family and friends.
I am currently the new member educator for the Chi Omega fraternity here at UNC Charlotte. I am also a member of the university's chapter of the Public Relations Student Society of America.
I'm so excited to be the new communications intern this semester! I've already heard so many great ideas that University City Partners is working on for the University area and I can't wait to see what I gain from this incredible opportunity!