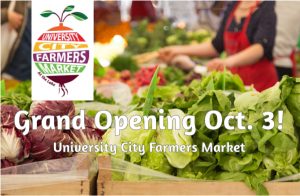 University City Partners announces the opening of University City Farmers Market on Oct. 3 around the lake at The Shoppes at University Place. Shoppers will find fresh local produce, food preparation programs and live entertainment.
Open every Saturday in October
The Market will open every Saturday in October from 8 a.m. to 1 p.m. Vendors will include some of Charlotte's best local farmers, artisanal food makers and pop-up chefs.
"We are delighted to offer a first-class farmers market for our community of more than 175,000 residents," said Darlene Heater, Executive Director of University City Partners. "We asked them what they'd like to see more of in University City and a community market, as well as more programs, were top priorities.
"Having the Market at the lake, the town center, makes it highly accessible and set against a gorgeous backdrop. It's going to be something special."
Local and healthy
University City Farmers Market will support local farmers and entrepreneurs. The farmers selected use organic practices to help steward the earth, while producing and sourcing some of the freshest and most nutritious food available in North Carolina.
Visitors will find seasonal vegetables and fruits, pasture-raised egg and meats, as well as artisanal food and natural beauty-care products.
Click here to learn about the two dozen vendors offering food, arts and crafts at the University City Farmers Market.
Cooking demonstrations and entertainment, too
University City Farmers Market also will feature live music, DJs and chef demonstrations. The food demos will focus on quick, healthy family-friendly dishes.
Chef Lisa Brooks and Erique Berry will show how to prepare tasty treats from items you can find at University City Farmers Market.
Farmers Market strives for safety
To ensure the health and safety of all visitors, vendors and staff, University City Farmers Market will observe all NC and Mecklenburg County guidelines for operations during the COVID-19 pandemic.
Masks required – Masks will be required of all visitors as well as vendors and staff.
Social distancing – The market will limit its capacity to allow for increased social distancing. All demonstrations and music performances will practice social distancing, as well.
No dogs at this time – We ask that visitors leave pets at home to increase social space at the market.
Come by LYNX, greenway or auto
The market is easy to reach via LYNX Light Rail, the new Barton Creek Greenway (map), or motor vehicle. There is ample free parking at The Shoppes at University Place, 8929 JM Keynes Dr.
Learn more at our website and on social media
Website – Get the full story about University City Farmers Market including links to vendors at univcitymarket.org.
Please share this email with any local small-business owners you know. Thanks!