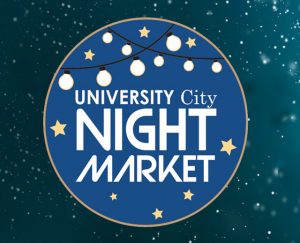 University City Partners announces the start of an outdoor nighttime marketplace, University City Night Market, at the lake and boardwalk at Shoppes at University Place.
University City Night Market will support small local businesses, while building and highlighting some of the best of the city's culture. The market will open on Small Business Saturday, November 28, and continue each Saturday through December 19 from 6 – 9 p.m.
In time for the holidays, the open-air night market will offer fun and adventurous retail shopping, holiday beverages and festive music.
An opportunity to support local restaurants and retail
"If there is ever a time to shop small, it is now," said Darlene Heater, Executive Director of University City Partners. "University City Night Market creates an opportunity for us to back local restaurants and small retail vendors, as well as activate a safe social space. We ask visitors to come out, follow all safety precautions and support our small businesses."
University City Night Market follows the opening of University City Farmers Market and University City Food Truck Friday in partnership with the City of Charlotte StreetEats program. The Farmers Market and Food Truck Fridays have been successful in safely supporting local businesses and nurturing the community in the heart of University City.
Night market to offer handmade crafts, jewelry, art and clothing
At University City Night Market, shoppers will find an array of vendor goods like handmade crafts, jewelry, art and clothing. Surrounding the shopping experience, attendees will encounter live entertainment. Whatever your taste, University City Night Market will have something to offer.
All events are open to the public and free to attend for all ages. Following the four-week long grand opening, University City Night Market will reopen next spring.
Safe practices to include social distancing, limited number of shoppers
Each Night Market will practice social distancing in accordance with Mecklenburg County and North Carolina State guidelines for the health and safety of all visitors. Similarly, capacity will be limited for shoppers to increase social distancing.
Guests are encouraged to access the market by riding the LYNX Light Rail to the JW Clay Blvd Station, walking or biking on the Mallard Creek and Barton Creek Greenways, or parking at Shoppes at University Place, 8929 JM Keynes Drive. MAP
Learn more
Visit the University City Night Market Facebook page for more details including vendors and entertainment.