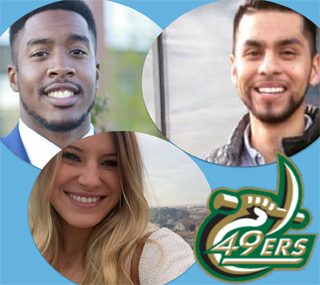 One benefit of having UNC Charlotte nearby is the amazing wealth of student interns.
We landed three of the best this semester:
Meredith Avant (Communications with PR concentration),
Miguel Avila (Economics with innovation focus), and
Charles Trowell (Architecture with Urban Studies minor).
They're free agents come May, so check them out and set up interviews soon!
Meredith Avant
My name is Meredith Avant. I am a senior at The University of North Carolina at Charlotte, majoring in Communications with a concentration in Public Relations. My career goals are to work in entertainment media and PR upon graduation in May.
I am very interested in social media, as I see where it can take us in the future as a new outlet for information and networking.
I recently returned from a semester abroad at the American University of Rome, where I gained a passion for traveling and studying popular media. My experience abroad was one I will cherish and value. I will take what I learned in Europe and at my home school here in Charlotte and use that to propel me into a career I am excited to take on.
I was born and raised in Charlotte, specifically the University area. I moved to south Charlotte during middle and high school, but when I returned to the University area my freshman year I was amazed at how much it had changed in the six years I was gone.
I heard about this internship opportunity from a friend at school and when I realized University City Partners had a role in the improvements in this area I knew it was an opportunity I couldn't pass up.
I look forward to practicing PR and marketing skills along with social media and event planning while interning with UCP.
Miguel Avila
My name is Miguel Avila. I am a junior at UNC Charlotte pursuing a bachelor's degree in Economics. Upon graduation I plan to work for a start-up accelerator as a director of entrepreneurship and innovation. My long-term career goal is to become a partner at a venture fund group like Sequoia Capital or KPCB.
I was born in Santa Ana, California, and spent most of my childhood in Mexico City. I moved to Charlotte nine years ago and plan to be here for another five as I build my professional network.
When I'm not in class, you can find me in the Student business incubator inside the PORTAL building, planning start-up competitions or organizing networking events for student leaders.
Beyond professional ventures, I DJ during the weekends. DJing has been a hobby of mine for the past seven years and has aided me in becoming a better communicator and creative individual. I have joined UCP to assist in making a positive impact in the University area. I hope to learn the process of building a community and relationships with local and corporate innovators.
I also want to better understand the landscape that influences growth in a local economy. I am happy to be a part of a team that is so focused and driven to make the university ecosystem a better place, whether it's headquarters or home.
Charles Trowell
My name is Charles Trowell and I'm originally from Durham. I'm a graduating senior majoring in Architecture with a minor in Urban Studies. I'm planning on pursuing a master's degree in Urban Design with an interest in culturally based design.
Following grad school, my hopes are to start a design consulting firm. My long-term goal is to create a philanthropic non-profit that is centered around mentoring.
At UNC Charlotte I work as a student coordinator for the office of Minority Student Services. I also have lead positions in the Multicultural Resource Center, Greek Life, AIAS, and Collegiate 100, to name a few. In my spare time I enjoy working with a non-profit called Exodus Foundation and volunteer service activities.
My hope for interning at University City Partners is gaining more experience in the planning aspect of the field. UCP offers opportunities for me to make real-world connections between academia and urban-design practice.
I'm also interested in research, and UCP also offers a wealth of opportunity. This internship truly gives me a chance to expand my skills and knowledge of the planning profession. I'm excited to soak in as much information as I can.