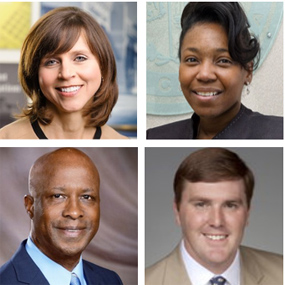 University City Partners welcomes four new members to our Board of Directors: Shannon Dixon of Casto, Leslie Johnson of Mecklenburg County, Bobby Shields of Shielb PLLC, and Ryan Wetherington of Allen Tate.
Each new member brings unique skills that will advance the University City Partners plan of work.
We also offer a hearty thanks for the many contributions of our retiring board members, Nancy Reitz and Bill Scurry.
More about our new board members
Here are additional details about our new board members and their assignments. CLICK to learn about our full leadership team and Board of Directors
Shannon Dixon – Shannon is vice president Casto, a national real estate services company based in Columbus, Ohio, that develops and manages commercial, industrial and residential real estate, including parts of University Place.
Leslie Johnson – Ex officio – Leslie is assistant county manager for Sustainable Communities.
Among her duties are providing executive oversight of Park and Recreation, Economic Development Services, and County strategic planning and evaluation initiatives.
She holds a doctorate in philosophy with a concentration on housing policy and research, plus a master's degree in urban and regional planning and a bachelor's degree in architecture.
Bobbie Shields – Planning & Development Committee – Bobbie Shields is the owner and manager of SHIELB PLLC, a planning, engineering and management consulting firm. He previously served as interim County Manager for Mecklenburg County. A resident of the Newell community, Bobbie graduated UNC Charlotte and from the UNC–Chapel Hill Institute of Government's County Administration Program and the Executive Leadership Program. He previously served as an Advisory Board member of the Charlotte Chamber of Commerce, board member of the Charlotte-Mecklenburg Development Corporation, and member of the International City/County Management Association.
Ryan Wetherington – Chair, Economic Development Committee – Ryan is vice president of corporate services and relocation for Allen Tate. He previously served as director of marketing and public relations for the Lancaster County (SC) Economic Development Corporation and, before that, as a research associate for the Charlotte Regional Partnership. He also serves on the NC Economic Developer Association, where he chairs the Emerging Executive Committee.