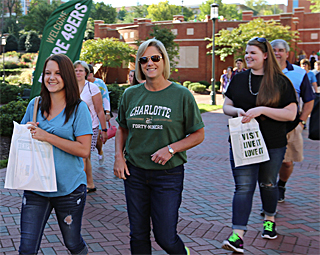 If you have a friend or family member thinking about attending college next fall, you owe it to them to visit North Carolina's fastest growing state university right now.
That university is UNC Charlotte, and on Saturday the university will hold an open house for prospective 2018 freshmen and transfers.
Visitors will tour the campus, meet faculty and students and sample campus life right here in University City!
Open House details
The event will run from 8 am to 2 pm, beginning with a welcome and overview and also including talks with faculty and staff in several academic departments, a guided tour (be sure to wear comfortable shoes!) and sessions on topics ranging from the Levine Scholars program to Study Abroad opportunities.
RSVP now!
Reservations are required for Saturday's Open House.
To learn more and make reservations, click here. BE SURE TO CREATE AN ACCOUNT IN THE FUTURE 49ER PORTAL
For more help regarding Open House Saturday, call Admissions at 704-687-5507 during weekday business hours.
To watch a 30-second video sampler of the Open House, click here.
For information on the many other ways to explore UNC Charlotte, including daily campus tours, click here.
More Open Houses next spring
If you can't make this Saturday's Open House, or if your student is a high school junior or sophomore, you can sign up beginning on Oct. 29 for one of the two Spring 2018 open houses on March 17 and April 21. Click here for the link.