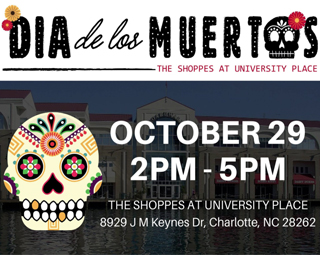 RESCHEDULED NOVEMBER 4TH 2-5PM
Don't let the name turn you off. The Day of the Dead event at University Place on Sunday, Oct. 29, will be full of arts, history, music and fun, while paying homage to the historically rich ancient holiday still observed in many parts of Mexico, El Dia De Los Muertos.
The festival will include free educational activities and booths to teach about the traditional Day of the Dead festivities and history and will also be a great cultural experience filled with arts & crafts, music and performances.
Among the activities:
Traditional Mexican music with the Mariachi Los Caporales.
Informational Booth on the history and traditions of Mexico
Face Painting with Nelson Morales, Catherine and Maia ‐ A face painting station with designs centered around the Day of the Dead.
Paper Flowers Booth with Julio Gonzales ‐ Learn the art of making paper flowers, a traditional decoration for the Day of the Dead.
Step By Step painting with Inside|Out CLT Artist Sloane Siobhan ‐ Experience guided painting with Sloane Siobhan and take home your creation! Participants must RSVP Sloane in advance or sign in to join on the day of the event, if there is leftover space in the workshop.
BYOP – Bring Your Own Pumpkin with Georgie Nakima ‐ Participants will paint their pumpkins with fun and spooky designs to take home.
Mask Making Workshop with Artist Cathay Dawkins ‐ Students will create a day of the dead skull mask, using an array of medium including; paint, glue, markers, glitter, & buttons.
Learn more about Day of the Dead
Visit the event Facebook page for additional details.
About the festival sponsors
The festival is being sponsored by Inside | Out Charlotte, a collaboration between the Bechtler Museum of Modern Art and the Harvey B. Gantt Center for African-American Arts and Culture, with support from the Knight Foundation.
Inside|Out is a community activated art project that places high quality reproductions of artworks in neighborhoods across selected cities.
Learn more at insideoutclt.org.