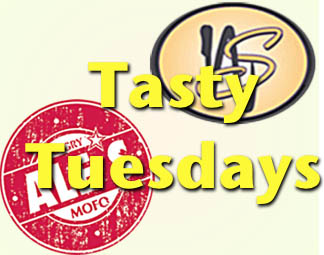 Our University City Partners interns help us with many tasks. One that they definitely enjoy is providing Tasty Tuesday articles – their take on popular restaurants.
For this newsletter, Michyla Greene visited Nona's Sweets, while Luis Martinez and Sean Tisdale sampled Angry Ale's University. Here are their reports.
Angry Ale's University
By Luis Martinez and Sean Tisdale
Angry Ale's is a sports bar and restaurant with locations on Montford Drive and North Tryon Street near campus.
Angry Ale's University offers a great variety of food like Philly Cheese Steaks, fried pickles, bacon wraps, mac and cheese, sirloin steak, and burgers. The restaurant also has several weekly specials, such as half-price burgers after 5 pm on Mondays and $1.50 tacos all day on Tuesdays.
After realizing it was Tasty Tuesday, we all decided to go to Angry Ale's for lunch.
The atmosphere of the restaurant was great, as it had a Charlotte 49ers sports bar vibe. We took a booth seat, where the waitress provided us with menus and gave us time to order.
After discussing the menu options, we ordered Philly Cheese Steaks, sliders and an appetizer of fried pickles (hand-breaded and fried pickle chips, served with ranch dressing).
The food took a while to come out, but once it did arrive, it was delicious! The Philly Cheese Steak was cooked and seasoned well, and although Sean and I were new to fried pickles, they were delicious!
Overall, we rate it 10/10!
Angry Ale's University
In the Terraces at University Place, 9605 N. Tryon St.
704-525-3663
Nona's Sweets Bakery Café
By Michyla Greene
Nona's Sweets Bakery Cafe is a family business located in the heart of University City. Nona's specializes in family recipes passed down through generations and generations of Nona's (grandmothers).
Nona's offers a variety of classic baked goods ranging from several types of cheesecakes, bear claws, cookies, pies, and dessert bars. They even offer a feature where you are able to build your own cupcake!
Nona's also serves cafe items including paninis, club sandwiches and wraps for lunch, and even a red velvet waffle for breakfast.
On a recent visit, I ordered the weekly special, the Turkey Pesto Panini. This sandwich contained a pile of turkey along with thick cut tomato, gooey mozzarella cheese, and pesto sauce. The bread was toasted very nicely for an added touch.
Choosing a dessert was hard due to the large variety offered in the bakery section. I finally settled on a Peanut Butter Chocolate Brookie.
The brookie (brownie + cookie) is a cookie topped with a moist brownie, chocolate icing and peanut butter chips. It was so rich and decadent! You certainly won't find these at your average bake shop.
Extra points for creativity.
Nona's Sweets Bakery Café
In The Shoppes at Worthington, 1520 Overland Park Lane, Suite 1-107
704-717-6144
Open 8 am-8 pm Mondays-Saturdays Breakfast served 8-11 am Lunch served 11 am-2 pm