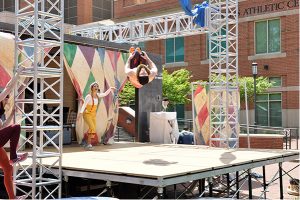 Circus acrobatics, wild costuming, giant props and live music bring fable "tricksters" to life in 6 free outdoor performances for audiences of all ages. UNC Charlotte students will perform April 20-25 on an outdoor stage near Popp Martin Student Union.
This innovative devised performance work is a circus-inspired grab bag of classic Southern trickster characters (think Brer' Rabbit, Brer' Fox, Brer' Possum . . .) adapted for the 21st century.
Assistant Professor of Voice and Movement CarlosAlexis Cruz – a champion of community engagement through the arts – oversees this entertaining study-through-motion of popular characters from African American, Latino and Native American cultures.
Cruz has an extensive background in the world of physical theater, both as a scholar and performer. He has performed nationally and abroad in several touring companies and founded Pelu Theatre, a company mainly interested in finding ways of telling urban stories, particularly through a Latino lens, in more physically engaging ways.
Even the stage is a work of art
The UNC Charlotte College of Arts + Architecture debuted its Mobile Arts & Community Experience (MAX), a state-of-the-art mobile facility, in April 2015. The college received a three-year, $350,000 grant from the Knight Foundation to support MAX's design and construction.
MAX is a hybrid performance venue/community gathering space that can accommodate everything from circus arts to a neighborhood association meeting. Through community-centric programming and a mobile infrastructure, UNC Charlotte uses MAX to enliven neighborhoods, parks, festivals and other community events with arts and activities that reflect Charlotte's growing diversity.
See MAX in action – This short video offers a taste of what you'll experience at "Trickster"
Performance details
"Trickster" will be performed on the MAX stage in the campus quad across Craver Road from Popp Martin Student Union. Free shows will be presented at 2:30 pm April 20, 5 pm April 21, 2 and 5 pm April 24, 5 pm April 24 and 11:30 am April 25.