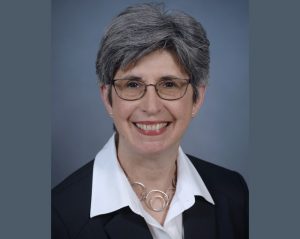 Joan Lorden, UNC Charlotte's Provost and Vice Chancellor for Academic Affairs, has been named 2016 Charlotte Woman of the Year for Civic Leadership and Service. Bestowed by the Charlotte Woman of the Year Committee, the honor is presented for exceptional service and exemplary leadership.
"Joan is truly a servant leader," said Cyndee Patterson, president of The Lee Institute and a 1997 Charlotte Woman of the Year honoree. "She leads by listening carefully, asking insightful questions and then throws herself into whatever project she takes on in the community."
Lorden, who joined UNC Charlotte in 2003, provides leadership for seven colleges, the graduate school and multiple research institutes at a University comprised of nearly 29,000 students and 1,000 faculty members.
"I can think of no other individual who has left such as indelible mark on our community," said UNC Charlotte Chancellor Philip L. Dubois in nominating Lorden. "Yet, she does it with quiet leadership, well outside the spotlight. With seeming ease, Joan has assured that important community needs have been addressed with the resources and talents available at the University."
Lorden instrumental in university civic engagement
As the University's chief academic officer, Lorden has spearheaded a renewed commitment to deepening the scope of civic engagement across the campus.  Also under Lorden's leadership, community- and industry-based initiatives have flourished and have been integrated into curriculum and student practice.
Research by UNC Charlotte's Metropolitan Studies and Extended Academic Programs, which include the Urban Institute, the Institute for Social Capital and Women + Girls Research Alliance, along with initiatives, such as the Charlotte Action Research Project (CHARP) and the Mobile Arts and Community Experience venue and community gathering place, are a few examples of how Lorden is marshaling the power of a public university to confront issues and challenges within the greater Charlotte community.
A champion of action-oriented service learning
Her efforts to expand action-oriented "service learning" that integrates meaningful community service with instruction to enrich the collegiate experience and inculcate civic responsibility among UNC Charlotte students have garnered Lorden national accolades.
In 2016, she received the William Plater Award for Leadership in Civic Engagement from the American Association of State Colleges and Universities, and the University was given The Washington Center's Civic Engagement Award, based, in part, on Lorden's directives that have enabled faculty to more fully integrate civic engagement into the University curriculum.
Service beyond the university
Lorden's community service is extensive. She partnered with Charlotte-Mecklenburg Schools to establish the Charlotte Engineering Early College High School at UNC Charlotte; she was an appointed member of the Arts and Science Council's Cultural Life Task Force; she has served on the board of directors for the Blumenthal Performing Arts Center; she was a member of the Women's Impact Fund Board; and currently, she is a member of the board of Discovery Place.
"Every time I'm in a room with Joan, I view it as a gift," said Foundation For The Carolinas Executive Vice President Brian Collier. "Her unique leadership style and wisdom have directly or indirectly shaped some of the most important initiatives in our community. I know she would never take credit for that, and there are times when I'm not sure even she recognized how she subtly changed the direction of a conversation. Joan is never the loudest voice in the room, but in her own way, she's often the most thought-provoking and impactful."
Event to honor Lorden on March 27
Lorden, who will receive the 2016 Woman of the Year Award formally during an awards presentation on Monday, March 27, at the Duke Mansion, continues the pioneering paths blazed by other University leaders. Founder Bonnie Cone was the 1956 Woman of the Year Award recipient, and Judy Rose, the University's first female athletic director, was honored in 1996.
– Article provided by UNC Charlotte