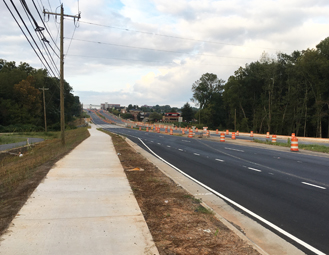 One done. One close. And one open. That's the short take on two major road projects and a related greenway.
Done: Charlotte's extension of University City Boulevard to its future link to realigned Mallard Creek Road.
Close: North Tryon Street bridges over Mallard Creek (though the southbound bridge is down to one lane for a month or more).
Open: Mallard Creek Greenway beneath North Tryon Street.
Charlotte finishes City Boulevard Extension
Construction is complete on the City Boulevard Extension Project and the road is now open to traffic, the city announced last week.  Improvements include a four-lane, median-divided roadway with curb and gutter, bicycle lanes, planting strips and sidewalks.
City Boulevard now extends University City Boulevard westward from its existing intersection at Neal Road to the future alignment of Mallard Creek Road near Rumple Road.  The NCDOT Mallard Creek Extension project remains under construction, which the City Boulevard project will connect to.
City Boulevard travel lanes will decrease from four lanes to two at Rumple Road.  This traffic pattern will be used until the NCDOT's project is completed in 2017 and the tie-in can be made.
Tryon Street lane closings over Mallard Creek
A temporary closure of two out of three lanes on the southbound North Tryon Street bridge over Mallard Creek may last until mid-November, the state Transportation Department says. The lane closure is necessary to strengthen the roadbed. On a positive note, the two-year project to replace two outdated bridges will be finished about the same time.
Each new bridge will have three lanes, a bike lane and sidewalk once the project is finished. The old bridges were two lanes and lacked both sidewalks and bike lanes.
State ends Mallard Creek Greenway detour
Popular Mallard Creek Greenway reopened recently after about two years of detours around the state's bridge replacement project on North Tryon Street.
Two sidewalks that run from the greenway to North Tryon Street will remain and connect in to new sidewalks along North Tryon Street and the new bridges.