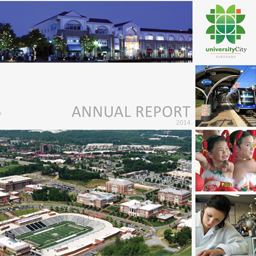 What an amazing year! With light rail under construction, University City's stretch of I-485 set to open next spring, dramatic jobs growth and resurgence in our neighborhoods, University City is being transformed. Our new 2014 Annual Report (CLICK to view or download) details this breakout year and University City Partners' pivotal role in shaping it.
Recent media headlines offer a glimpse of the significant events and announcements throughout the year:
"Red Ventures Expansion is Latest URP Good News"
"Electrolux to Add 810 jobs, Doubling its Charlotte Presence"
"PORTAL Building Shines in Mobile-Money Hackathon"
"Crescent Alexander Village Reflects New Vision for University Research Park"
"Carolinas HealthCare opens $9.75M Radiation-Therapy Center at University City hospital"
From vision to dramatic growth
Our University City Development Report (CLICK to view or download) details a staggering $2.4 billion in public and private investment pouring into our central business district including UNC Charlotte. Completion of I-485 through University City and construction of a light rail line to Center City – both vigorously advocated for and promoted by University City Partners – account for $1.5 billion of that investment.
But public investment in infrastructure is not limited to these two transformational projects. The City of Charlotte and State of NC are further investing in University City with several significant road, highway, bridge and greenway projects that will position University City as the most accessible marketplace. And, as development follows infrastructure investments, University City is poised to realize billions of dollars of private investment over the next decade.
Major headquarters announcements
University City continues to benefit from a recovering economy as well as strategic investment and positioning of our office real estate assets. Within University Research Park and Innovation Park, new construction, upfits and renovations ranging from amenity additions to major tenant build outs, such as Allstate and AXA Equitable in Innovation Park and doubling of headquarter campuses at Electrolux and Rack Room Shoes in the University Research Park, have catapulted economic development momentum. Absorption at University Executive Park has also outpaced plan, meriting a multi-million-dollar renovation beginning in Summer 2014.
Office vacancy rates are at an all-time low and our market is pressured for new office product. Companies in University City announced more than 2,000 new jobs, bringing total employment in our market area to 73,000. As Charlotte's second-largest employment center with more than 950 acres of undeveloped land, University City is competitively positioned for growth and investment.
27,000 students and growing
UNC Charlotte and its Charlotte Research Institute campus along Tryon Street continue to grow, with student enrollment reaching 27,000 this fall. The University opened the $35 million PORTAL building as a public-private meeting ground for innovation. More than $450 million of student focused housing, both on and off campus, is underway or planned.
Easy access to medical care–a cornerstone of University City since Charlotte's first suburban hospital opened here in 1985–benefitted from two stellar investments this year. Carolinas Healthcare System's Levine Cancer Institute opened a $9.75 million Radiation Therapy Center at CMC-University. OrthoCarolina-University opened a $6.1 million surgical facility nearby.
No. 6 in move-ins nationwide!
Our business boom has ignited residential activity, too. The 28269 ZIP adjacent to the University Research Park ranks No. 6 nationwide in move-ins, according to a national survey. Home prices in 28269 have surged 30 percent in two years and industry experts expect continued gains once I-485 opens. And true to market trends, University City has 7 multi family developments in the construction pipeline in FY14. Five of the developments will provide off campus housing to UNC Charlotte students.
UCP-sponsored plans helping shape our future
UCP's focus on planning and development is paying off. University Research Park celebrated the delivery of the mixed-use development Crescent Alexander Village and two expanded headquarter facilities, which in turn have triggered additional streets and sidewalk infrastructure. These changes are realizations of the URP Master Plan that University City Partners created in 2010 in partnership with the City and County. We continue to realize infrastructure investments imagined in the 2007 University Area Plan, which University City Partners also championed.
We are pleased to share this annual report for FY14 and the role that University City Partners has played in the district's transformation. As we look forward to the next opportunities for University City, our focus will remain steadfast on smart, sustainable and visionary growth.