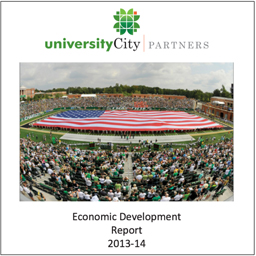 University City Partners has released its first Economic Development Report, putting an exclamation mark on a year of positive announcements. The report details 61 public and private construction and renovation projects either under way or announced in the last 12 months within the University City's Municipal Service District, plus 10 large property sales.
Totaling $2.4 billion, the projects range from the transformative LYNX Blue Line Extension and I-485 completion to the headquarters expansions at Electrolux and Rack Room Shoes.
"This compilation demonstrates the economic vitality of this marketplace," said UCP Executive Director Darlene Heater.
District 4 City Councilman Greg Phipps added, "This gives you the opportunity to see the interest in this corridor and the Municipal Service District. As the economy improves, it should portend even more development and activity up this way."
Report reflects strong year for University City
The 2013-14 Economic Development Report provides a trailing 12-month view of public and private development projects within the 4,800-acre University City Partners district in northeast Charlotte, N.C. The district includes UNC Charlotte, a state university with nearly 27,000 students; the 2,200-acre University Research Park, with more than 30,000 employees at scores of businesses; and surrounding office and retail centers. The district is the economic center of Charlotte's University City, home to more than 160,000 people.
The last year has had plenty of good economic news for University City. Many of those announcements are reflected in this report, such as approval of a light-rail line from Center City to UNC Charlotte; Allstate's decision to relocate 1,200 employees to Innovation Park; and Rack Room Shoes' decision to relocate the headquarters of a subsidiary to the URP campus.
Positive trends for the future
Phipps praised the new economic development report. "I think it's a great pictorial representation of all the activity that's been generated by various stakeholders and partners in the University City Municipal Service District," he said. "It shows how vibrant this area is and the potential it has to keep the momentum going."
The report also shows that many years of vision, planning and work to build a live-work-play community around UNC Charlotte are paying off, said Robert Wilhelm, executive director of the university's Charlotte Research Institute. "You'd have to call this another example of the 40-year-old 'overnight success,'" he said. "It is very encouraging that there is much more upscale development and renovation taking place, and we are attracting companies that want to bring new talent and a younger workforce into University City. "That's a trend we see of encouraging economic growth around the country, and it's good to see it is happening in University City, and that University City is now a draw for this type of growth."
Heater said that the new report will be a tool for the University City Partners staff and board in sharing information about this marketplace with the commercial real-estate industry. UCP plans to update the report every six months.
Among the report's highlights:
Office – 13 projects totaling more than $140 million in new construction and renovations, including upfits and a new parking deck at Innovation Park; the total reconstruction of the Exeter office building; headquarters expansions by Electrolux and Rack Room Shoes; and upfits at Environmental Way and 10101 Claude Freeman Drive for, respectively, IT companies Red Ventures and Yodle.
Multifamily – Seven new communities totaling $220 million, including the first phase of the mixed-use Crescent Alexander Village in University Research Park, and five student-oriented communities just south of UNC Charlotte on NC 49 and East WT Harris Boulevard.
UNC Charlotte – 14 projects totaling $316 million, including the recently dedicated PORTAL Building in Charlotte Research Institute; the Early College High School building to open this fall; and numerous student housing renovations and new buildings that could increase on-campus residents from about 5,500 to 7,000 students by fall 2017.
Light rail and I-485 – Total of $1.586 billion to complete the last leg of the I-485 Outer Belt Road and I-85 interchange late this year and to construct the 9.3-mile LYNX Blue Line Extension, two parking decks and associated community improvements.
Other Transportation and infrastructure – $82 million for several road , bike and pedestrian projects including the long-awaited new connector road linking Mallard Creek Road and Graham Street; extension of University City Boulevard; and three greenway and bike-ped paths.
Property sales – 10 transactions totaling $76 million, including the former WalMart at University Place; Bank of America's 24-acre tract at North Tryon Street and Mallard Creek Church Road; and the Wall Street Journal printing facility in URP (now owned by the Charlotte Observer and used to print both papers).
See the report
The full report is available to view and download at Universitycitypartners.org  >>  DOWNLOAD
Learn more
To discuss the report and business opportunities in University City, contact Darlene Heater, executive director of University Research Park, at 704-688-2483 or dheater@universitycitypartners.org