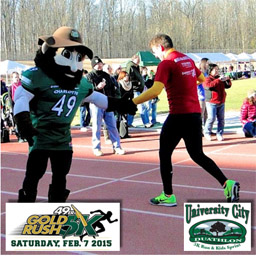 Four University City events over the next eight weeks will help you become a better person … or at least a more fit person! And if you sign up today (Jan. 27) for the first one, you can even save three bucks! We're talking about the UNC Charlotte 49er Gold Rush 5K Run / Walk on Feb. 7; the Corvian Community School Green on the Green 5K Run / Walk on March 7; the Governors's Village 5K and Fun Run on April 18; and the University City Duathlon on May 2.
UNC Charlotte 49er Gold Rush 5K Run / Walk
When: 9 a.m. Saturday, Feb. 7.
Where: Starting line is at the Irwin Belk Track near Toby Creek Greenway.
What: a 3.1 mile run and walk through campus with some challenging hills up to the Charlotte Research Institute and the main campus.
Who: Open to everyone.
Cost: You're in luck. Today is the last day to register on line for just $22 ($15 students). Cost to register online jumps to $25 for everyone after today (Jan. 27.) Race-day registration, $30 for everyone.
Who benefits: You, of course, plus all net proceeds go to the UNC Charlotte Student Development Scholarships. Organizers will also take direct donations to Girls on the Run.
Awards: Top 3 male and female finishers, plus top female and male student, alumni, faculty/staff and community entries. Also awards for several age groups.
More details and online registration: http://recservices.uncc.edu/signature/5k
Green on the Green 5K Run /Walk
When: 4 pm March 7
Where: Corvian Community School, 9501 David Taylor Drive beside Mallard Creek Greenway
What: St. Patrick's Day-themed run and walk to encourage healthy living. Race in your zaniest green for added fun.
Who: Open to all. Inaugural race in 2014 drew 550 adults and student!
Cost: $30 online for adults, $18 for kids through close of online registration at 9 am March 5; $35 / $20 on race day.
Who benefits: Race-day food drive will benefit Second Harvest Food Bank of Metrolina. Everyone is asked to bring canned goods or other nonperishable food items to donate.
Awards: The race is professionally managed by Jones Racing Co. Participants' times will be measured with bibtag timing chips. Awards for top overall male and female winners plus the top three male and female finishers in the following age groups: 5-6, 7-8, 9-10, 11-13, 14-19, 20-29, 30-39, 40-49, 50-59, 60+
More details and online registration: http://jonesracingcompany.com/corvian-green-on-the-green-5k/
2nd Annual Governor's Village 5K & Fun Run
When: 8 a.m. Saturday, April 18
Where: 7901 Neal Road
What: 5K run at 8 a.m., Fun Run at 9 a.m. and post-race block party "with awesome music, free food, inflatables and interactive sponsor areas. Race includes ChronoTrack Chip timing on a uSATF Certified Course.
Cost: $25 for 5K on line or $30 at event; 1 mile Fun Run is free, but you must register. T-shirts available for $15 each, supply limited.
Who benefits: Proceeds go to college scholarships for students at the four Governor's Village Schools.
Awards: Medals awarded to 1st, 2nd, 3rd place in each category. Medal awarded to the fastest male and fastest female. Age categories: 8 & under, 9-14, 15-19, 20-29, 30-39, 40-49, 50-59, 60 and over.
More details: https://www.facebook.com/events/543256135778042/
Online registration: http://runrocknroll-register.competitor.com/search/event.aspx?id=31149
University City Duathlon, 5K and Kids Sprint
When: 8 a.m. Saturday, May 2.
Where: David Taylor Corporate Center, 10101 David Taylor Drive in the University Research Park
What: A triathlon without water. Participants run a 5K, then ride a 19K bike ride and finish with a 3K run. The 5K event will start at the same time as the Duathlon. Kids Sprint will start at 8:10 a.m.
Who: Open to the public.
Cost: $40 before Feb 17; $50 Feb 17-May 1; $60 at the event.Cost for the 5K: $20 before Feb 17; $25 Feb 17 – May 1; $30 at the event. Kids Sprint: Free, or $5 with a T-shirt.
Who benefits: The Charlotte branch of Bethany Christian Services, which provides adoption services.
Awards: Tons of them.
More details and online registration: http://universitycityduathlon.com.