With its opening of phase one of what will become a 64,000-square-foot technology campus in the David Taylor Corporate Center, Peak 10 has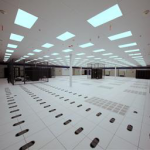 become the latest company to make a major investment in the University Research Park (URP). The URP facility is the company's fourth data center in Charlotte and its first in north Mecklenburg.
22 DATA CENTERS AND COUNTING
Peak 10 also has 22 data centers among ten cities throughout the United States. The Charlotte technology campus brings Peak 10's entire Charlotte footprint to more than 129,000 square feet. Upon build out, Peak 10 will have invested approximately $50 million in infrastructure within the Charlotte market.
The 200+ attendees at a recent open house were given guided tours through the state-of-the-art facility. The behind-the-scenes look revealed the attention to detail that had gone into the new center.
Like all Peak 10 facilities, the newest addition was engineered with enterprise-class infrastructure to meet its customers' requirements for security and compliance. The facility operates with five-point physical security, uninterruptible power, HVAC systems, fire suppression and around-the-clock monitoring and management. It is SSAE 16 audited, PCI compliant and interconnected with Peak 10's private network, which provides customers the ability to leverage its data centers in all 10 markets when implementing disaster recovery solutions.
ABOUT PEAK 10 INC.
Peak 10 provides reliable, tailored cloud computing, data center and other information technology (IT) infrastructure solutions, primarily for mid-market businesses. Customer-centric, responsive and cost-effective, Peak 10 solutions are designed to scale and adapt to customers' changing business needs, enabling them to increase agility, lower costs, improve performance and focus internal resources on their core competencies. Peak 10 holds the Cisco® Cloud Provider Certification with a Cisco Powered Cloud Infrastructure-as-a-Service (IaaS) designation. Peak 10 is SSAE 16 audited and helps companies meet the requirements of various regulatory compliance acts such as Sarbanes-Oxley (SOX), HIPAA/HITECH, PCI DSS and Gramm-Leach-Bliley (GLBA).