When Shane Hockensmith chose to relocate and expand Bike Line at Town Center Plaza five years ago, he made "an investment in growth." He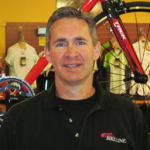 hired an interior designer, studied stores from Apple to Kohl's and devised an inviting layout that says, "This is me." And Bike Line has indeed grown, bolstered by the store's great location near growing UNC Charlotte, University Research Park and bike-friendly Toby Creek Greenway. "It's an awesome benefit for us," Shane says.
GREAT PLACE FOR A BIKE STORE
The real-estate mantra, "Location, location, location," has proved true for Bike Line. Shane says that his location near Rite Aid, Life Time Fitness and Harris Teeter gives him great exposure to their customers.
Bike Line also benefits from being across Hwy. 49 from UNC Charlotte, with 26,000 students and thousands of faculty and staff. "They're a huge employer, just like the hospital (CMC-University) and the Research Park, so we get quite a bit of traffic. There's always a surge in business starting the last week of August."
GREENWAY IS CYCLING HEAVEN
The opening of Toby Creek Greenway two years ago has given Bike Line another strong boost. The greenway starts at Town Center Plaza's main entrance on Hwy. 49, runs through the university campus and ends at the Mallard/Clark's Creek greenway – which in turn runs for several miles through University Research Park and a dozen neighborhoods and apartment communities. On weekend mornings and some weekday evenings, cyclists, joggers and walkers flood the greenways. Many of those users park at Town Center Plaza near Bike Line.
"It begins – or ends – right in front of our shop. Everyone who comes into the store we tell about it," Shane says.
And many people do stop by the store to look around, he adds, which is why he has put so much effort into making a positive first impression. Racks of road and mountain bikes line the store's main aisle from front door to the service desk. Clothing, helmets and accessories fill attractive displays deeper into the store.
INVITING STORE DESIGN
Equally important, customers are quickly greeted by a Bike Line employee. Often that employee is one of the bike mechanics, since their work area is in full view behind the service desk. Subtle message: We'll fix your bike, too.
"You don't go into Rite Aid and then come next door to buy a bike," Shane says, but people do often drop in to check things out. "Six months or a year down the line, whether you or a neighbor may be in the market for a bike, you'll remember our store and recommend it."
Bike Line is also benefiting from a surge in cycling popularity. The amount of people riding in and near campus is definitely picking up, he says, partly due to Toby Creek Greenway. Yet many more people might ride bikes if they knew about the greenways. "People have to feel secure on their bike," he says, and greenways provide that security.