There is a reason University City has the tagline "Great Ideas Live Here." We have a remarkable ability to see opportunities in even the toughest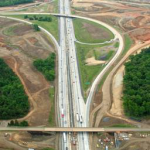 times, like when needed bonds are delayed. Buckle up, because more change is headed our way, bringing needed transportation choices with a challenge or two to add to the mix.
FIRST, A RECAP OF WHAT IS IN PROCESS
By 2014, I-485 through University City will open and hopefully alleviate pressure on W.T. Harris Boulevard.
By 2018, light rail to downtown and south Charlotte will come to campus.
A new 4-lane roadway around Derita's "village" will connect Graham Street to Mallard Creek Road and ease some of Derita's rush-hour congestion – a fitting memorial to the late Bernie Samonds, longtime advocate for all things Derita.
The Mallard Creek Greenway's gravel stretch through University Research Park could join Mecklenburg's greenway system, thanks to work by its new owner and University City Partners. Completion of Toby Creek II and Barton Creek will add greenway connections AND provide key connections to the 15-county Carolinas Thread Trail network. When finished, more than 200 miles of trails will connect bikers and hikers in University City to places as far-flung as Kings Mountain State Park and Lake Norman.
OUR URBAN STREET GRID LIVES ON
Those who recall the Belgate zoning (name of the area next to IKEA) may remember that the original developer agreed to help build a network of new roads with sidewalks and bike lanes. Some roads are already emerging on either side of the new Wal-Mart. One victim of the 2012 bond delay was the South Bridge, an I-85 flyover from just north of IKEA into the Governors Village school complex. Hopefully that $14 million project will resurface.
RETAIL SHUFFLEBOARD
The Belgate site sold recently. Its new owner, DDR, has lined up six prospective tenants for a new complex that it plans to build north of IKEA (parallel to I-85). Several of those tenants will vacate current centers: Marshalls and Hobby Lobby from the Home Depot center; PetSmart from near Target; and Ulta and Old Navy from University Place. World Market will return to the area.
While it is troubling to see how our retail configuration will change, DDR says it will build those needed roads.
And while we are talking about retail, rumor has it that Wal-Mart is considering another offer to buy the abandoned Wal-Mart on WT Harris. When we know anything, you will know.