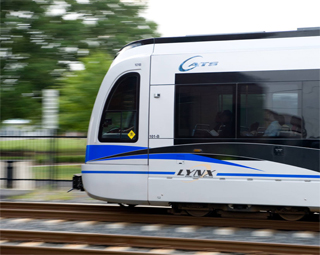 Thinking of riding the LYNX? These changes and a reminder may smooth the trip:
New riders: With UNC Charlotte back in session, be prepared for many more riders.
New discount: LYFT has expanded its first-mile/last-mile discounts to include the University City Blvd. station area.
Parking deck reminder: You can park for free in our two LYNX decks – unless you need to leave between 3 and 6 pm weekdays.
Here are the details.
More 49ers aboard!
Don't be surprised by the sudden surge in riders aboard the LYNX light-trail trains, even late at night. Nearly all of UNC Charlotte's 30,000 students get a transit pass that lets them ride all light-rail trains and CATS buses.
The cost is included in the students' mandatory fees as a way to reduce the demand for campus parking. Faculty and staff can get a big break on LYNX and bus fares, as well.
Lyft expands first-mile/last-mile ride discounts to University City Blvd station area
Light-rail riders needing to reach destinations near the University City Blvd LYNX station can now take advantage of a special first-mile/last-mile discount from Lyft, the on-demand transportation service.
The service, already available at the JW Clay Blvd and Parkwood stations, provides a $4 discount on Lyft rides between the stations and nearby destinations.
The goal of the program is to provide affordable and reliable transportation via LYFT to busy destinations near the stations but too far away to reasonably reach by walking.
Click here to learn how to access the program.
Reminder: Parking in decks will cost – if you leave 3-6 pm weekdays
While most LYNX parking areas along the light-rail line are free, the LYNX parking decks at the JW Clay Blvd Parking Deck and the University City Blvd Parking Deck sometimes – but not always – charge a $10 daily rate.
We won't go into details, but the decision to charge – sometimes – for parking is related to the many students commuting to the nearby UNC Charlotte campus.
When must you pay?
We called the CATS information line and confirmed that you can park in the two decks for free UNLESS you choose to leave from 3 to 6 pm weekdays.
If you leave during those times, you still can park for free IF you have valid day pass or greater (including weekly, monthly and annually).
Who must pay for parking, and when? Here are the rules, direct from the Charlotte Area Transit System.
CATS would like to remind riders of the LYNX Blue Line Parking Deck fees along the northern part of the alignment.
Since March 2018, CATS has required a valid transit pass to exit either J.W. Clay Blvd/UNC Charlotte Station Parking Deck and University City Blvd. Station Parking Deck on weekdays between 3:00 pm and 6:00 pm.
Security Officers will be at gate exits during these times checking drivers for a valid LYNX and CATS pass. Customers must have a valid pass to exit. UNC Charlotte All Access pass does not allow exit without purchasing a valid pass.
CATS will notify customers of the start of any changes to the parking rules.
Free exit: Day Pass, or pass of higher value (weekly, monthly, annual pass, etc.)
The following do not qualify for free exit: UNC Charlotte ID; Any One Ride; Any Round-Trip.
Riders with these passes who wish to park in the deck and exit between 3-6 pm weekdays must also purchase Day Pass or pay the $10 Parking Day Rate.
Still have questions? Call CATS Customer Service at 704-336-7433 for more information.