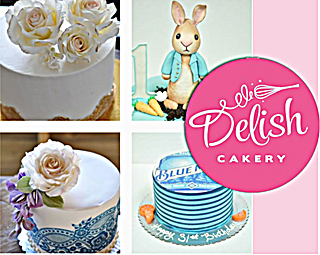 The popular Delish Cakery at University Place closed recently for renovations and to finish repairs from a water leak last winter.
Aryn Keogh, who launched Delish nine years ago, sees the temporary closing as a rare opportunity "to step back and think about what we are doing," and perhaps to invent new flavors, she said with a laugh.
Keogh, who turns 30 later this summer, began Delish Cakery out of her kitchen in 2009 by selling cupcakes, French macarons, cookies and other treats in the Innovation Park office park.
She opened her bakery in the Lakefront Shoppes at University Place three years ago.
These days, Keogh's custom wedding cakes and party cakes are the big draw at Delish, along with her French macarons.
Delish has fans around the world
You can see photos of Keogh's tasty creations – 490 photos so far, plus many customers' compliments – on Delish's Instagram page. Keogh usually posts two to four new images a day. The Instagram page has more than 1,500 followers.
"I'm really popular in Charlotte," she said, "and the second biggest group is in Jakarta (Indonesia). It's weird, but a lot of ladies over there like me!"
With time off from daily bakery demands, Keogh is working on a fresh interior design for Delish and "more modern and chic designs" for her custom cakes.
Keogh said she is not sure how long the renovations and repairs will take. "I will let everyone know when we are back open and running," she said.
Stay in touch with Delish
Delish Cakery is at 9009-6 JM Keynes Drive in the Lakefront Shoppes area of University Place, near the Wine Vault and Chico's.
For renovation updates, follow Delish on Facebook or visit delishcakery.com.
For order inquiries, call 704-724-7743.