A new garden at CMC-University will soon yield berries, peppers, squash AND healthier humans, hopes garden founder Elaine Jones. A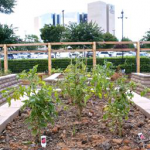 dietitian who counsels hospital patients, Jones sees the garden as a wellness classroom where adults and kids can learn about the lifelong benefits of healthy eating. "This is about getting ahead of the game," Jones says.
COMMUNITY EFFORT TO GET GARDEN GROWING
The 500-square-foot raised-bed garden sits along the perimeter road that overlooks UNC Charlotte. Carolinas Healthcare Foundation, LiveWELL and Jones's employer, Morrison Management Specialists, funded the project. Volunteers from Husqvarna and the Charlotte Knights came on a blistering hot day in mid-July and filled the raised beds. "It must have been 105 degrees on the day that we did that," Jones said, laughing. "It was fantastic to have that manpower. The teamwork was amazing."
The young garden has raspberry and blackberry canes, blueberry bushes, zucchini squash, tomatoes, peppers and many herbs. Jones and several hospital staff volunteers are going out daily to make sure the plants get enough water to survive this summer's intense heat.
Jones expects to add peach, apple and fig trees later this year on the hillside below the garden and grapes and kiwi to grow on the garden's pergola.
PUTTING VEGGIES TO WORK
Jones sees the garden serving several functions.
The garden could be the perfect stage for classes on gardening techniques, nutrition and even cooking, with chefs teaching easy recipes using herbs and vegetables picked fresh from the garden.
Fresh produce from the garden also could also be used in the hospital cafeteria to teach about healthy diets, Jones says.
The hospital is partnering with Garinger High School and Morehead STEM Academy to develop extensive wellness and nutrition programs related to the schools' own gardens.
The garden could also serve as a way for University City's internationally diverse population to share their gardening traditions with one another. "We invite community members and hospital members to teach," Jones said. "With all the different populations here, everyone brings something new and different that they can share."
GREEN THUMBS NEEDED
"Absolutely I need volunteers," Jones says. "We are hoping the entire community will embrace this garden and be a part of it." People interested in helping with the garden can email their interest to Elaine Jones at Elaine.jones@carolinashealthcare.org