By Mary Hopper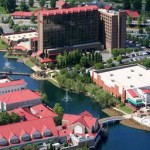 Executive Director
On any given week, the University City Partners office fields more calls about retail than anything else. While that has been true during all of our 10-year existence, those inquiries have accelerated with Belgate's opening. Perhaps because we had such an enviable record filling empty spaces, the newly relocated stores from other nearby centers seem to cause alarm. But they shouldn't.
FOCUSING ON THE BIG PICTURE
People forget that what happens does not do so in a vacuum, ignoring the sweeping changes that have roiled retail in recent years and the slowed economy we are clawing our way out of as a nation and, for that matter, a world. Retail bankruptcies, mergers as with Office Max and Depot, the rise in on-line shopping and the leapfrogging to new locations like North Lake – University City has seen it all.
OUR RETAIL GOOD NEWS
University City has been the only place in the region that is building significant new retail. A national developer, DDR, has invested tens of millions building an area that had been halted by the economy.
That development has been a mixed blessing, although it has brought more good than bad. It built out a road grid that allowed at-grade rail through the former "weave" and is giving us a north-south way to escape rail construction when it comes.
At last count, Belgate is bringing four new retailers to University City, adding a new as-yet-unnamed hotel, and bringing back one store that had left here.
Yes, the relocation of five retailers caused dark spaces in their former locations. Also yes, back-filling those spaces will be harder than in past years.
RETAILERS REINVESTING IN UNIVERSITY CITY
While admitting to a Pollyanna outlook, I am troubled that folks are not celebrating the fact that several retailers chose to stay in the area and, through their moves, to reinvest heavily. Hobby Lobby reportedly spent $4 million on its upfit.
Talking with the retailers, they report new shoppers and increased sales. Call me foolish, but the fact that these stores didn't abandon the area but invested more is a tribute to our retail viability.
MORE GOOD DATA AND SELLING POINTS
A recent retail analysis showed that University City has a significant share of retail but not of local vacancies.
Moreover, because of the new retail, our rents are above the local average. The tipping point people fear has not occurred.
Yes, the study concluded, we have challenges, but they are not overwhelming.
• University City has major selling points including IKEA and, soon, light rail.
• We are a growing area, which means more shoppers nearby.
• And we show even greater growth going forward.
• Increasingly people who live here also work nearby.
• Our daytime population is strong, adding to the area's buying power.
The trajectory of retail is jagged but good. Keep those calls coming. We like that you care enough to worry.
HOW TO REACH US
You can reach Mary Hopper, the Executive Director of University City Partners, at 704-688-2483 and at mhopper@universitycitypartners.org