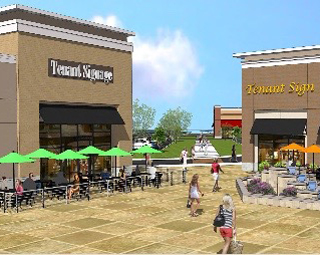 Updated on Oct. 10, 2016
The Pointe at University Place is filling up fast. With construction just beginning, the six-building retail development near the future JW Clay Boulevard light-rail station and parking deck already has leased eight of nine spaces in its three central buildings. Two of three outparcels also have been taken.
Tenants named so far at The Pointe include:
"Let people know that we still have retail space and an outparcel available," said Shannon Dixon, executive vice president, development and leasing, for CASTO Southeast Realty Service.
"We are still on schedule to deliver spaces in first quarter 2017 to align openings with the start of light rail service in summer 2017," she added. Casto also owns the adjoining Shoppes at University Place.
Development plan
The wedge-shaped property fronting both North Tryon Street and JW Clay Boulevard will have 27,000 square feet of single-store retail and restaurant space.
The development will have six buildings along the outer edges of the wedge, with parking in the interior. Three outparcels along JM Keynes Drive range in size from 3,500 to 7,000 square feet.
A signature pedestrian entrance and walkway will begin at the North Tryon Street corner directly across from the transit stop. The sidewalk will align with the existing grand walkway that leads through The Shoppes at University Place to the lake bridge.
Light rail service begins in 2017
Interest in the new retail center is likely enhanced by construction of the LYNX Blue Line Extension, a 9.3-mile light-rail line scheduled to start operation next summer between uptown Charlotte and UNC Charlotte's main campus. The line includes a transit station and 800-space parking deck on North Tryon Street at University Place's JW Clay Boulevard entrance.
The Charlotte Area Transit System estimates that about 22,000 people a day will ride the 9.3-mile transit line when it opens next August. Directly across North Tryon Street are both UNC Charlotte, with 28,000 students, and Carolinas HealthCare System University hospital, with nearly 1,400 employees.
First step in University Place redevelopment?
The coming light-rail line encouraged Casto to launch The Pointe this summer. "With the coming of the light rail, we recognize that the time is right for the redevelopment of Shoppes at University Place," Dixon said. "The Pointe at University Place is the initial phase of what will hopefully be our full future redevelopment of the center," she added.
"We are working with University City Partners on conforming future redevelopment with the new transit-oriented design criteria, which will help transition the property into the true urban transit-oriented development it needs to be."
University Place began in 1984 as a mixed-use center with shops, offices, a Hilton Hotel, condos and patio homes around the center's signature 11-acre lake.
The center continues to serve as a major attraction in University City and is seen as the likely focal point of transit-oriented urban development along the future LYNX Blue Line Extension.
Learn more
For details on this project including leasing opportunities, contact Rich Roy at Casto at 919-467-8880 or RRoy@Castoinfo.com.
Click here to see plans and other details for The Pointe at University Place.