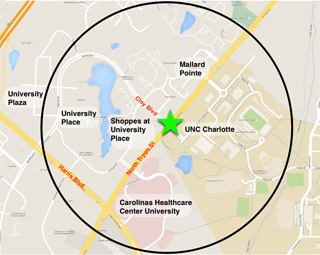 A plan approved last year by Charlotte City Council seeks to reshape University City's North Tryon Street into a vibrant, light-rail-focused urban destination, with University Place as its town center. The plan acknowledges, however, that businesses will drive much of the change. Now six key property owners and University City Partners are taking the next step.
The group has begun crafting a collective vision for the transformation of their properties, all of which lie within a short walk of the J.W. Clay Boulevard Transit Station.
Owners of retail land, university and hospital all involved
Participants include the UNC Charlotte Foundation, Carolinas HealthCare System University, Cambridge Partners (owner of the Mallard Pointe Shopping center across from campus), and three owners of University Place retail space: Aegon USA Realty Advisors, Casto and Tricor.
Heading up the process is Tobe Holmes, who recently joined University City Partners after serving as director for several years of Charlotte's most successful transit-oriented urban center, Historic South End.
Holmes says that the essence of this planning process "is to bring together all of those property owners, and also the public sector (through University City Partners), to start building a concept of what the area looks like in the future and how these shopping centers will connect to the hospital and university, and of course the light-rail line, to create a synergy among all of them."
Study to look at mile-wide circle around Clay Station
The focus of the study is a half-mile district around the future J.W. Clay Boulevard transit station and 800-car parking deck for transit riders. Clay Boulevard is the main North Tryon Street entrance to University Place as well as a growing access point to the university campus and its Charlotte Research Institute.
The city's 2015 Transit Station Area Plans Update identifies University Place as "University City's town center" of the future – "the hub of economic, entertainment and community activity within University City." The city plan envisions retail streets such as J.M. Keynes Drive being lined with multi-story, multi-use buildings with street-level shopping and dining, parking tucked out of view and safe ways for pedestrians and cyclists to move easily throughout the community.
But how do private businesses make and profit from the changes envisioned in those plans, such as transforming the current car-centric shopping centers to walkable urban villages that blend a variety of uses? What is the best timetable for phasing in specific private development and public investment such as new streets, green space and a library? How can private developers, the university and hospital work together for maximum mutual benefit?
Work expected to start within the month
The newly begun planning process will seek to craft that collective vision and provide crucial answers, Holmes says. The first step has begun – choosing a planning consultant. The group hopes to make that selection from a half-dozen candidates within a few weeks, Holmes said.
The bulk of the planning and visioning process should be done by late September and completed by November, he said. The group's goal is to come away with a vision for the next decade or more that benefits all members and provides a clear, detailed action plan.
A significant part of this plan is a residential, retail and office market analysis. "If we don't know what to expect, we can't get realistic about what we can build there," Holmes says."