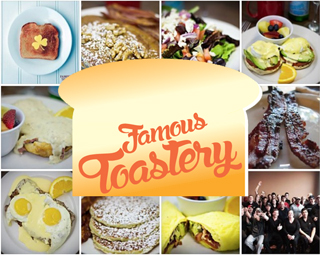 Famous Toastery, a popular regional chain of breakfast-lunch restaurants, will launch its newest location next week beside the lake bridge at the Shoppes at University Place. Franchise owners Patrick and Charlotte McManaman are greeting the community in a big way – by helping sponsor the free Spring Concert Series, 6-9 pm each Thursday in April next to their restaurant.
The University Place restaurant is Famous Toastery's eighth in the Charlotte metro region and 11th overall in the Carolinas and Florida. Another dozen locations are coming soon, the company website says.
Famous Toastery began 10 years ago as Toast Cafe when friends Brian Burchill and Robert Maynard launched their first restaurant in a converted house in downtown Huntersville. The partners soon expanded to three locations offering a fun atmosphere and fresh-made dishes like portabella mushroom benedict and avocado omelets.
The operation evolved into a franchise system in 2013 and revised its name to Famous Toastery to differentiate the breakfast/brunch brand as it expands nationally.
From patrons to owners
Patrick McManaman says he and Charlotte, a physician, discovered the restaurant shortly after moving to Cornelius six years ago from California. "When you move to a new place you spend a lot of time searching for your new favorite places to eat," he said. "We ate at the Toastery in Davidson, and we just liked it."
About the time that Famous Toastery launched its franchise system, the McManamans were exploring their own interest in possibly buying a franchise restaurant, Patrick says. "I happened to be eating there one morning and saw a placard on the table, 'Be a part of the Toastery family. Call us.' And we did."
Two years later, the McManamans are preparing for the official opening of their new Famous Toastery on April 1 in the fully renovated building that overlooks the paddleboats and main bridge at University Place. "This area has a good vibe, with the school, the hospital and all the hotels," Patrick says. "This is a busy and up-and-coming place with a lot of potential and possibilities."
What you'll find at Famous Toastery
Famous Toastery has always been known for its diverse menu, Patrick says. Dozens of egg and griddle dishes are available throughout the day. Guests also can choose from sandwiches, burgers, wraps, melts, hot dogs and salads (Tofu Fresca Salad with apples, cranberries, blue cheese crumbles and walnuts caught our attention).
Care for an adult beverage? The restaurant will serve beer and wine, including several specialty drinks.
The restaurant also offers catering, from small groups and breakfast banquets to wedding receptions.
Come for a visit
Famous Toastery is at 8933 JM Keynes Drive, Suite, 2, overlooking the lake and main bridge at the Shoppes at University Place. The restaurant will open to the general public at 7 am Friday, April 1.
Hours: 7 am-3 pm daily
Phone: 704-503-9599