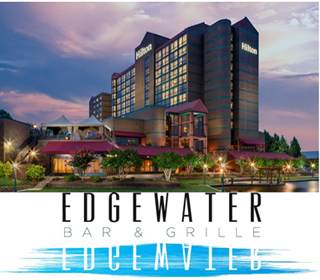 Edgewater Bar and Grille, the newest restaurant at University Place, offers relaxing lake vistas, a spacious bar, a casual atmosphere and a diverse, Southern-inspired menu ranging from Black & Blue burger to N.C. Trout and Certified Angus Beef Tenderloin. Breakfast is served daily, too, including an extensive buffet. The Edgewater's easy to find. It's right inside the Hilton.
Just come in through the Hilton's main entrance and proceed to the sun-filled atrium at the far end of the lobby. Or stroll in from the lakefront and ride up one floor on the escalator. You'll see the Edgewater to your right.
If you have visited the Hilton before, you will probably recognize this area as the former home of the Lakefront Restaurant. Comparisons end there. Under the direction of Brandon DeVoe, the Hilton's director of food and beverage, the old restaurant area has been reborn into two distinctive new venues. The transformation extends to the menus, as well.
The new place for lakeside dining
Start with the Edgewater's signature bar and central dining area, opening out onto the hotel atrium. Up to 50 patrons can comfortably sip, socialize and dine here, whether at the bar, several small tables or two large "commune" tables that can seat 8-10 each.
During busy lunch and dinner hours, the restaurant seating easily expands into the adjoining atrium and onto the balcony overlooking the lake.
Edgewater offers contemporary, casual and comfortable dining, with a menu designed personally by DeVoe. "We want to end people's perception of hotel restaurants" as overly formal or stuffy, DeVoe says. "At Edgewater, you can come in, grab a drink and share a delicious meal."
Lunch and dinner items
The lunch and dinner menus will satisfy many tastes including your preference for serving size. Choose from snacks and appetizers to several dinner plates available in both smaller and larger portions. "If you want to have Carolina Trout with home-style green beans in onions and red-wine vinegar, you can get a small portion for $12," DeVoe says.
Many of the choices, while familiar, also reflect DeVoe's desire for meals that stick to the region's Southern heritage. The lunch menu ranges from "Small Plates" such as the Seafood Hushpuppies (shrimp, crab and crawfish with Creole sauce) to sandwiches like the Shrimp Po Boy and the Caprese (fresh mozzarella, tomato, arugula and pesto on focaccia bread).
Dinner includes many of the lunch items plus "Shared Plates" – small or large portions of dishes such as Salmon with Black Eyed Pea Succotash and Braised Short Ribs with Four Cheese Mac. For the big appetite, consider dishes such as the Kansas City Bone-in Strip Loin with Gruyere and Truffle Fries.
Yes, you will want to leave room for Edgewater desserts. Many are made in-house, including the Chef's Daily Cheesecake and the Banana Pudding Crème Brûlée. The desserts that aren't made in-house come from Mooresville's Queen City Bakery. "They have out-of-this-world desserts," DeVoe says.
Breakfast in the Fountain View
With nearly 400 guest rooms, the Hilton often serves hundreds of breakfasts on a single morning. The new Fountain View room seats about 90 and features a separate buffet serving room and extensive views of the lake.
Two buffets are available. The Complete breakfast bar includes an omelet station, freshly baked breakfast breads, made-to-order eggs and other hot items. The lighter Continental includes breads, fruits, cereals and yogurts from the main Complete buffet. Or choose from among dozens of freshly prepared breakfasts, such as Chesapeake "Bennies" – poached eggs with tomato, wilted spinach and crab cakes, plus hash browns and fresh fruit.
A new ballroom and more at the Hilton
The two-dining-room arrangement means that, once breakfast is served, the Fountain View becomes a ballroom for wedding receptions and other events, including small business lunches and dinners.
The new Edgewater Bar and Grill and Fountain View room are among several recent improvements at the Hilton. The hotel added a coffee-gift shop serving Starbucks products last year and completed guest-room renovations in March.
Lobby updates later this fall will pick up on the design themes seen in the new Edgewater Bar and Grill. New soft seating around the escalators is coming soon, as well.
Dining details at Edgewater Bar & Grill
Location: Inside the Hilton Charlotte University Place, 8629 J M Keynes Drive
Hours: Open daily for meals 6:30 am-10 pm. Bar open 11-11 daily.
Phone: 704-916-2831
Catering: 704-547-7444
Thanksgiving Day Feast
Join the Hilton Charlotte University Place for a Thanksgiving Day Feast on Nov. 26 from 11 am to 4:30 p.m. To make reservations, call 704-547-7444.