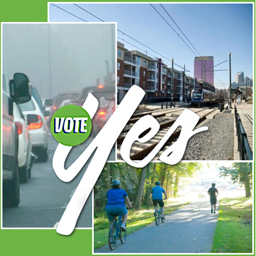 Your vote this election could reshape how we get around in University City and Charlotte. The last item on the ballot is a city bonds request to fund transportation, neighborhood and housing improvements. Among projects directly benefiting University City:
Cut rush-hour traffic on Harris Boulevard and Mallard Creek Church Road by building two bridges across I-85.
Maximize benefits of the coming light-rail line by improving nearby streets, sidewalks and bikeways.
Create a safe way to bike and walk downtown and beyond by linking existing greenways into a single Cross-County Path.
The city bond proposal includes $110.96 million for transportation projects, $20 million for neighborhood improvements and $15 million for housing for low- to moderate-income residents. The bonds will require no new taxes.
In this article, we focus on three projects that will bring much needed connections between University Research Park, the coming light-rail line on North Tryon Street and downtown. These projects also offer major benefits to pedestrians and cyclists.
Bridges over I-85 to ease rush-hour congestion
West W.T. Harris Boulevard and Mallard Creek Church Road carry more daily traffic than most interstate highways – more than 60,000 vehicles per day on Harris near I-85, and more than 50,000 vehicles per day on Mallard Creek Church Road near I-85. Most people who commute to jobs in University Research Park or pass through University City during rush hour say the traffic is challenging.
The number of vehicles has increased over the past year with several companies moving into the research park or expanding their operations. The master plan for University Research Park envisions significantly more development including housing and retail.
Where will all the additional vehicles go? Charlotte planners have three related answers: provide new ways for people to get in and out of the research park; give URP employees good access to the future light-rail line on North Tryon Street; and provide safe ways for more people to bike to work. Two proposed bridges over I-85 would serve all three needs.
Construction of I-85 bridge (south) – The 2014 bond package includes $15.1 million to build a new bridge over I-85 between IBM Drive in the Research Park and University Pointe Boulevard in the Belgate / IKEA retail development. This bridge would relieve rush-hour congestion on Harris Boulevard and Mallard Creek Church Road, provide new opportunities for business growth within the Research Park and provide new and faster connect between the URP businesses, future light rail stations and nearby residential and retail areas around the new Walmart. Why faster? Because the bridge would not have an I-85 interchange to slow things down. The lack of merging traffic means that the bridge can also have safe bike and pedestrian lanes.
Planning for I-85 bridge (north) – The 2014 bond package includes $3 million to plan a second new bridge over I-85. Another city bond package currently scheduled for 2016 would include money to build the bridge. This project would link University Place and the research park via a roadway that starts near the Oasis Shrine building in University Place, crosses I-85 and flows into Research Drive via Louis Rose Place.
This new bridge and road would provide additional connectivity between the Research Park, UNC Charlotte and the future Blue Line Extension station on North Tryon Street as well as the shops, housing and services in University Place. Like the I-85 south bridge, this bridge would lack an I-85 interchange – a big benefit to pedestrian and bike traffic flowing out of UNC Charlotte.
Northeast Corridor Improvements for light rail
The coming Blue Line Extension light-rail line between Center City Charlotte and University City will cost more than $1 billion to build. Yet to reap the biggest benefit from the line and its nine transit stations, city planners say that Charlotte must spend another $102 million on street improvements, sidewalks, bike lanes and other amenities. A similar public investment around stations on the original Blue Line is credited with helping spur more than $1.5 billion in private investment, much of it in housing.
That investment mirrors trends nationwide, Charlotte transportations planners noted in a report this spring on development occurring near Blue Line stations. "A recent Urban Land Institute survey found that, among Americans planning to move within the next five years, 62 percent prefer neighborhoods close to shops, restaurants and office. Nearly as many, 59 percent, would prefer a shorter commute with a smaller home," they wrote.
The Northeast Corridor Infrastructure Program (NECI) has two major goals:
Provide pedestrian, bicycle and vehicular connections to light rail stations.
Provide infrastructure to support and encourage transit supportive development.
Many of the recommended changes came from community meetings that helped create official development guides for land near each station. This year's bond package includes $16.6 million for NECI projects. A proposed bond package in 2016 would generate another $35.4 million. The rest would come via planned bond packages in 2018 and 2020.
NECI UPDATE MEETINGS – City staff will give updates on improvements around each BLE station and on the light-rail project at meetings  6:30-8:30 p.m. Oct. 28 at Sugaw Creek Presbyterian Church and Oct. 29 at Hampton Park Community Center. LEARN MORE
Cross-Charlotte Multi-Use Trail
Imagine getting on your bicycle and riding from Mallard Creek or UNC Charlotte all the way to downtown Charlotte and beyond to York County. That could happen in the next few years, if voters approve funds to plan and build the 26-mile Cross-Charlotte Multi-Use Trail. The project would link and upgrade several existing greenways, including our Toby, Mallard and Clark's Creek greenways.
This fall's bonds include $5 million for planning. The next bond package in two years would include about $30 million in funding to build the project. VIEW MAP
Learn more and get involved
Learn more about city bonds at voteyesforbonds.com and at Facebook.com/VoteYesForBonds.
Help get the bonds passed. The group that promotes these bonds can use your help to spread the word and encourage others to vote. CLICK HERE for details or contact Elizabeth Barnhardt, Campaign Coordinator, at 704-649-7008 or Elizabeth@VoteYesForBonds.com
Vote Oct. 23-Nov. 1 and Nov. 4
EARLY VOTING Oct. 23-Nov. 1 – Early voting is offered Oct. 23-Nov. 1 at 21 locations around Mecklenburg County including University City Regional Library, 301 East W.T. Harris Blvd, near Carolinas Medical Center-University. Early-voting hours at all locations except the CPCC main campus on 7th Street are as follows:
Weekdays Oct. 23-24 and Oct. 27-31, 10 a.m.-7 pm;
Saturdays Oct. 25 and Nov. 1, 10 am-1 pm;
Sunday Oct. 26, 1-4 pm.
ELECTION DAY Nov. 4 – Polls are open 6:30 am-7:30 pm
MORE VOTER INFORMATION – To learn where you vote on Nov. 4, for early-voting details, and for other elections information, call the Mecklenburg County Board of Elections 8 am-5 pm weekdays at 704-336-2133 or visit the Board of Elections website.