Updated Feb. 18, 2021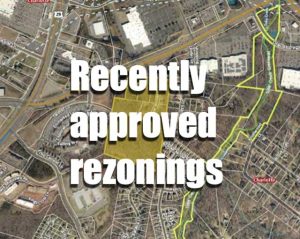 Charlotte City Council approved plans for six multifamily housing communities in University City at its January and February zoning meetings.
Other approved developments include a single-family community at Hucks and Browne roads; a rental facility on West WT Harris Blvd. and 145,000 square feet of commercial and retail as part of a major residential development near I-485. Here are details.
Petitions approved by City Council on Jan. 19, 2021
712 multifamily and 26 townhomes near I-85 and University City Blvd.
Commercial center and 432 apartments and townhomes near I-85
157 duplex, triplex or single-family attached homes on IBM Drive
63 townhomes near I-85/I-485 interchange
Single-family residential at Hucks Road and Browne Road
Industrial rezoning for rental facility on Harris Blvd.
Petitions approved by City Council on Jan. 19, 2021
108 townhomes on Ridge Road near I-485
97 townhomes on Back Creek Church Road near University City Blvd
167 townhomes on Rocky River Road beside Toby Creek
Transit-oriented development rezoning near McCullough Station
Mallard Creek treatment plant expansion