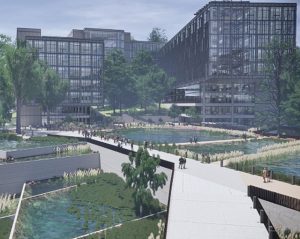 January 2021 report on commercial real estate in University City – Charlotte
Centene East Coast HQ leads 2020 business news, says Charlotte Ledger
"That's the huge one," Ledger Executive Editor Tony Mecia tells WFAE.
Total jobs could top 6,000 – biggest jobs announcement in NC history, Mecia says.
Centene news also helps NC earn "2020 State of the Year" title from Business Facilities.
NOVEL Research Park sells for $69.5 million
Charlotte Observer says price is among highest ever for University City apartments.
The year-old community, now named Pointe at Research Park, has 280 units on 19.3 acres.
Site adjoins property purchased by Centene Corp. for East Coast headquarters.
Other recent sales in University City include RUSH student housing for $95.25 million.
Work under way or starting soon on 2 apartment communities
Spectrum JV is building 325-unit development near University City Blvd LYNX station. MORE
ContraVest to start work soon on Addison One15 at W. Harris Blvd and Old Statesville Road.
Addison One15 will offer attached garages, cybercafe, private office spaces. MORE
I-85 North Bridge update: work starting on utilities relocation in Research Park
Work will start soon along David Taylor Drive and Research Drive near Louis Rose Place.
Project will begin with tree removal. Utilities will relocate both underground and overhead lines.
City will work to maintain safety for workers, surrounding businesses and commuters.
Bridge and new roadway will link Research Park to University Place, LYNX, university.
Questions: Leslie Bing, project manager, at 704-577-8609 or lbing@charlottenc.gov.
Recent building permits in University City
Building permits issued from Sept. 7 to Dec. 8 2020 include:
Centene East Coast HQ – Phase 1 office Str. Frame and other work; 2405 Gov. Hunt Rd; multiple permits; Centene Corp.; $51 million total
Vue on University – Residential units and leasing office; 9905 University City Blvd; multiple permits issued; Vue on University Phase I LLC; $17.8 million total
6800 Solectron – Building renovations; 6800 Solectron Drive; issued Oct. 16; 6800 Solectron Owner LLP; $12,286,600
Queen City Charter School – Middle and High School; 9108 Mallard Creek Road; issued Nov. 16; Charlotte Education Services LLC; $655,000
Monster Mini Golf – Indoor entertainment facility; 230 E. WT Harris Blvd.; issued Nov. 6; Monster Entertainment/Ready, Set, Glow LLC; $330,000
January Fast Fact
$553.5 million – Total selling price for 11 University City apartment communities sold in 2020.