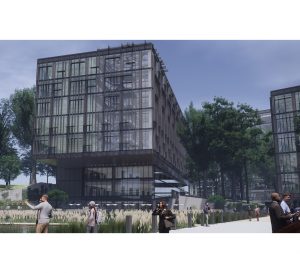 November 2020 report on commercial real estate in University City – Charlotte
Centene Corp. moving quickly on East Coast HQ at University Research Park
See the progress on Escent Research Park office building and campus
Short video compares current construction images and finished renderings.
Video also offers highlights of University Research Park's newest office building.
Crescent Communities expects to deliver finished building in Q1 of 2021.
Apartment market stays hot, with 6 more sales in University City
BJ reports sales of 5 other University City communities. Prices run 150% or more of appraised values:
Barrington Place, 2410 Allerton Way, $63 million. Grantee: Greystar.
The Commons at University Square, 9201 Glenwater Drive, $37.26 million. Grantee: Affiliate of Cedar Grove Capital.
The Maxwell at Highland Creek, 5410 Prosperity Ridge Road, $62 million. Grantee: Knightvest Residential.
Wexford Apartment Homes, 1811 Wexford Meadows Lane, $16.5 million. Grantee: Morgan Properties.
Crossroads Station Apartments, 6940 Hidden Forest Drive, $12.52 million. Grantee: Peak Capital Partners.
Rezonings OK'd on Oct. 19 for Novant Health medical center, new housing
Novant Health plans 144,000 SF facility at N. Tryon, Mallard Creek Church Road.
Five approved rezonings will allow up to 1,020 townhomes and apartments.
City held hearings on 50,000 SF of offices, 130 for-sale townhomes near Mallard Creek Road.
5 more communities in the works
Madison Capital Group breaks ground on 240 unit apartments near Cabarrus line. MORE
Watermark Residential to build 276 apartments near I-485 and Mallard Creek Road. MORE
3 developers seek rezonings for 376 apartments, duplexes, townhomes:
Accent Homes Carolina seeks rezoning of 12.3 acres on Back Creek Church Road near Hanberry Blvd for 110 townhomes on Back Creek Church Road. Petition 2020-125
1124 Galloway LLC seeks a rezoning of 8 acres on Galloway Road for up to 79 townhomes. Petition 2020-132
John Clark Jr. seeks rezoning of 28.8 acres at 900 Rocky River Road West for 187 duplex and/or single- family attached units. Petition 2020-137
University City Farmers Market drawing vendors, shoppers to University Place
Success of University City Farmers Market extends the autumn run through Nov. 21.
University City Farmers Market to operate weekly from spring through fall 2021.
Market was launched to provide local produce and goods, support small business.
Charlotte offers Resilient ReUp program to help businesses survive pandemic
Training program uses hybrid of virtual modules and sessions with experts.
Project is designed so busy owners can take part while running their business.
Businesses must be located in Charlotte and have 1-100 employees.
November Fast Fact
$20 million – Money earmarked in newly passed transportation bonds for street projects near LYNX light-rail stations