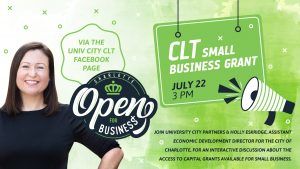 Join University City Partners and Holly Eskridge, Assistant Economic Development Director for the City of Charlotte, on July 22 for an interactive discussion about the Access to Capital grants available for small businesses.
How to take part
The event will take place 3-3:30 pm July 22 using Facebook Live. Access the event via the University City Partners Facebook page.
About the grants
Through the small business recovery program, the City of Charlotte is distributing $30 million in federal CARES Act funding to small businesses headquartered within the Charlotte city limits.
The program is a part of the City's Open for Business Initiative. Qualifying businesses will receive grants of either $10,000 or $25,000, depending on number of employees. Foundation for the Carolinas serves as the city's grantmaking partner for this effort.
The July 22 online program is being hosted by University City Partners and Foundation for the Carolinas.
Questions?
Please share!
Please share this email with any local small-business owners you know. Thanks!