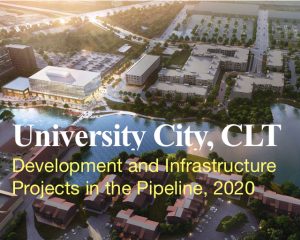 So much change is sweeping across University City, it can be hard to keep up.
All corners of University City's 7.5-square-mile area are evolving , from the 2,000 acre University Research Park to light rail stations. Nearly 4 million square-feet of office space was announced in 2019 alone.
That's why University City Partners has prepared a heavily visual report, "University City, CLT," showcasing private development and public infrastructure projects that are under way or starting soon. The report features many illustrations and links to news reports and websites related to the projects.
We have organized our report by "pockets of activity" – places such as the three North Tryon Street light-rail stations, where intense redevelopment is under way.
Among the many projects included here:
The UNC Charlotte Conference Center and Hotel
Waters Edge at University Place
Verde at McCullough Station
McCullough Drive extension and streetscape improvements
The University City Police Station
Top Golf and Entertainment District
CLICK HERE to view the report. We hope you will share it with everyone you know who has an interest in University City.