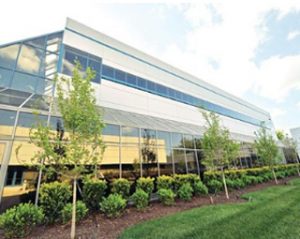 The sale of Innovation Park ranks as Charlotte's No. 2 biggest commercial-real estate deal of 2019, says the Charlotte Business Journal. The former IBM plant-turned-mega-office center sold for $270 million, making it 2019's No. 1 suburban office deal, as well.
The region's biggest deal was the sale of the 33-floor Bank of America Tower at Legacy Union, The Business Journal reported in its annual listing of the region's top 10 deals. Both the Bank of America Tower, which sold for $441.6 million, and Innovation Park, at $270 million, sold for substantially more than the No. 1 sale of 2018, the Regions 615 office building in uptown Charlotte. That building sold for $222 million.
Innovation Park, with 1.8 million square feet of offices and a 200-acre campus in University Research Park, was bought in October by Switzerland-based Partners Group and Accesso Partners of Florida. The center houses numerous companies including Allstate, Wells Fargo and AXA, and several thousand workers.
The new owners plan to nearly double the amount of office space, add up to 1,000 residences and also develop retail space and other uses, the Charlotte Observer reported at the time of the sale. READ MORE