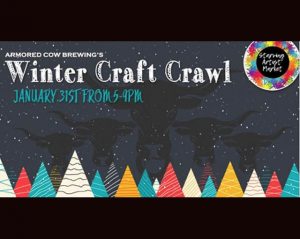 January can seem especially dull after the calendar-packed days of December – but you never have to be bored in University City!
Here's a quick look at a few of the opportunities that await you, including several that are free!
FEATURED: Enjoy 3 Faculty and Friends concerts!
The Faculty and Friends concert series showcases the musical talent of UNC Charlotte's Department of Music faculty. Upcoming concerts (all starting at 7:30 pm at Rowe Recital Hall) include:
Asst. Professor of Oboe Elizabeth Sullivan, Jan. 27. MORE
Asst. Professor of Voice Sequina DuBose, Feb. 3. MORE
Asst. Professor of Trombone Jeremy Marks,Feb. 10. MORE
Student Spotlight Concert
7:30 pm Jan. 31 in Robinson Hall's Belk Theater. UNC Charlotte's Music Department offers an evening of solo and small-ensemble performances by students. MORE
Storytime, chocolate and orchids at the Botanical Gardens!
The UNC Charlotte Botanical Gardens offer unique programs nearly every week. Here's a sampling. See the full calendar for many more events.
Stories in the Woods – 12:30-1:30 pm Jan. 19, Feb. 16 and March 15. Enjoy picture books and literacy activities in a beautiful forest setting. Free. MORE
Ganache in the Gardens: A Chocolate Celebration – 11 am-4 pm Feb. 8. Romantic music, a movie and free samples are just the start. Free. MORE
Annual orchid sale – Feb. 8-14 during normal greenhouse operating hours. Other plants also for sale. MORE
Winter Craft Crawl at Armored Cow Brewing Co.
5-9 pm Jan. 31, 8821 JW Clay Blvd. at University Place. Featuring the year's first event of 2020 by the Starving Artist Market. Numerous vendors offering local, handmade arts and crafts. MORE
49er Gold Rush 5K at UNC Charlotte
Maybe you need a new goal to shake off the January blahs. If so, consider signing up for the 49er Gold Rush 5K Run/Walk, Virtual Race and Fun Run on Feb. 1. Enjoy a challenging jog around the hilly UNC Charlotte campus while raising money for the University Recreation Student Professional Development Fund. The 49er Gold Rush 5K is part of the Healthy UCity Race Series. Get all the details and register today!
Weekly wine tastings at the Wine Vault
7-8 pm Wednesdays, 9009 JM Keynes Drive at University Place. Sample 6 fines for $5. MORE
49er basketball
Enjoy the excitement of men's and women's college basketball right here in University City. All of the home games listed here will be played at Halton Arena at UNC Charlotte.  Tickets and more.   Directions
Men's basketball vs. Old Dominion, 4 pm Jan. 11
Women's basketball vs. Marshall, 7 pm Jan. 16
Women's basketball vs. WKU, 4 pm Jan. 18
Men's basketball vs. Florida Atlantic, 7 pm Jan. 23