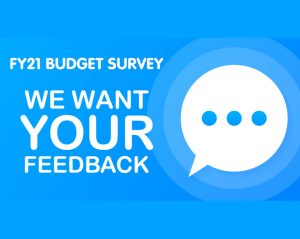 Do you care about improving our parks, schools and social services? Be sure to add completing the Mecklenburg County Budget Survey to your December to-do list.
Your responses could influence next year's county budget priorities.
Here are details about the survey as well as other ways you can learn about the county budget, the budgeting process, and how you can take part in shaping the final budget for Fiscal Year 2021.
Resident Budget Priority Survey (available through Dec. 31)
Share your budget priorities for the budget year starting July 2020 (Fiscal Year 2021) by ranking services by level of importance.
Learn how the county allocates and manages the current $1.9 billion operating budget, which funds: most parks and park programs throughout the county; a sizable part of the Charlotte Mecklenburg Schools budget; and numerous social services.
The survey must be submitted by Dec. 31 and is limited to Mecklenburg County residents. The county says that most people complete the survey in 10-15 minutes.
Online survey – To complete the survey online, click here.
Paper survey – To complete a paper copy of the survey, click here for a list of 20 public libraries including University City Regional Library where paper surveys are available. You may download a Spanish version of the survey at the same link.
Balancing Act Budget Simulator
The county offers an online Balancing Act Budget Simulator to help the public better understand the complex process of making choices on what to fund with limited resources.
Using the simulator, you can learn details about Mecklenburg County revenue sources and expense categories in the current budget (Fiscal Year 2020), then create a balanced budget based on what is important to you and the current tax revenues.
Submit your budget to share it with county leaders. You also can include comments.
Click here to access the Balancing Act Budget Simulator.
Property Tax Estimator
This online tool allows you to see how changes in the county tax rate will affect your Mecklenburg County property tax bill. The current tax rate of 61.69 cents per $100 of property value would equal a county tax of $1,542 on a $250,000 home.
NOTE: This calculator generates only the Mecklenburg County portion of your property tax. Local governments including the City of Charlotte also levy property taxes. The property tax rate for Charlotte in FY 2020 is 34.81 cents per $100 of property value.
Fiscal Year 2021 budget timeline
Here are key dates for creation of the Mecklenburg County Fiscal Year 2021 budget, which will take affect on July 1, 2021.
Throughout December 2019 – Mecklenburg residents may complete the Resident Budget Priority Survey.
Jan. 7, 2020 – Preliminary budget public hearing by the County Board
Jan. 29-31 – County Board retreat to review surveys and make budget recommendations
May 1 – County manager presents recommended budget to County Board
May 7 – Second budget public hearing by the County Board
May 26-27 – Straw vote by the County Board
June 2 – County Board adopts Fiscal Year 2021 budget
July 1 – New budget takes effect
Learn more about the Mecklenburg County budget process
To learn more about the county budgeting process and ways to get involved, visit the Budget Process webpage.