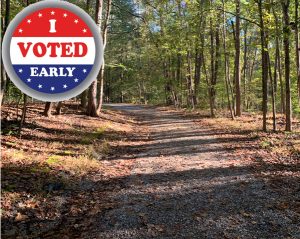 Early voting has begun for the Nov. 5 election, including races for Charlotte City Council and the Mecklenburg County School Board as well as a referendum on a quarter-cent countywide sales-tax increase.
If voters approve the tax increase, the county board says it will use the estimated $50 million in new annual revenue for parks, schools, and the arts.
The county operates 17 early-voting locations including the former Pier 1 store at 8802 JW Clay Blvd. in University Place (directions) and the Hal Marshall Center at 618 N. Tryon St. in uptown.
All early-voting locations are open daily through Nov. 1. Click here for the full list of locations and times.
For more details on the election including a sample ballot and polling place, visit the Mecklenburg County Board of Elections website.
Information on proposed sales-tax increase
The county board is asking voters to approve a quarter-cent sales tax increase on goods and services purchased in Mecklenburg County.
The current sales tax rate in Mecklenburg County is 7.25%, including a 4.75% state sales tax, a 2% countywide sales tax and a 0.5% transit tax.
"If passed, the quarter-cent sales tax (increase) would generate approximately $50 million per year and help fund an array of arts and culture programs, parks and greenways, education programs and other services for residents," the county says on its sales-tax webpage.
If the measure passes, the county website states, funding percentages are expected to be:
Arts and Culture – 45%
County Parks and Greenways – 34%
Education (teacher supplement) – 16%
Arts and Culture/Parks for the Towns – 5%
The Charlotte Observer recently reported on the debate over whether to approve the sales tax increase. Click here to read the article.
Urgent need for parks funding in University City
University City Partners is among several groups that have lobbied the county board for additional parks funding. Over the past decade the county has gained nearly 200,000 new residents with virtually no increase in spending for park operations and new parkland.
The latest county budget, approved by the county board in June, includes a 9.1% growth in spending overall but no funding for new parkland.
Meanwhile, the new LYNX light-rail line from uptown to UNC Charlotte is spurring rapid high-density residential growth around each LYNX station, including four along North Tryon Street between Tom Hunter Road and UNC Charlotte.
University City Partners leaders told the county board during budget deliberations last spring that the county must buy park land near the stations immediately or risk having no parks within walking distance of the many thousands of future residents and transit riders.
Read these articles from past University City Partners newsletters to learn more about the critical need for more parkland in University City.