Good times abound in University City,especially in the next month! Here's a look at our biggest autumn events, plus several smaller events as well.
Charlotte Kids Fest celebrates imagination, creativity and learning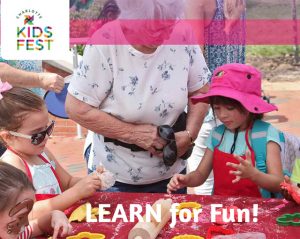 11 am-4 pm Oct. 5 on Robert D. Snyder Road at UNC Charlotte
University City comes alive for kids and kids-at-heart with this free celebration of imagination, creativity and learning – appropriately held on the UNC Charlotte campus.
Dozens of learning activities, many of them led by university students, will challenge and entertain youngsters. Kids Fest also will include live performances and vendors selling food and beverages.
The heart of Kids Fest near North Tryon Street is just a short walk from the J.W. Clay Blvd. LYNX station. We strongly encourage you to come by light rail. The campus also will provide free parking.
Thanks to these Charlotte Kids Fest sponsors
A free event this awesome takes many hands, starting with 2019 Title Sponsor TIAA. UNC Charlotte and University City Partners are the event's presenting sponsors.
Zone sponsors are Charlotte Area Transit System, Walmart, Atrium Health and Duke Energy. Sixteen other generous businesses and groups also provided crucial support.
Click here for all of the Charlotte Kids Fest activities and schedule.
See the world at 44th Annual International Festival
10 am-6 pm Sept. 21 at UNC Charlotte's Barnhardt Student Activity Center
Spend all day Sept. 21 absorbing the cultures of more than 50 nations, as UNC Charlotte hosts the 44th annual International Festival.
Much of the day's activities are focused on national booths arranged in colorful marketplace style. International students and members of Charlotte's international community will share art, crafts and costumes.
Musical performances will take place throughout the day, including Opera Carolina members performing on the Inside Stage at 11 am.
The Charlotte Independence soccer team will give demonstrations from 10 am to 2 pm.
The festival is free. However, many groups will have items for sale. Bring cash, since many booths cannot accept credit cards. Food and beverages also will be available to purchase.
Learn more and get the complete schedule.
49er Homecoming week from Sept. 22 to Sept. 29
With a university as big as UNC Charlotte, it takes a whole week AND an extra day to celebrate Homecoming!
The 49er Homecoming Week will include dozens of activities open to the community, starting at 10 pm Sept. 22 with the Homecoming Kickoff at Popp Martin Student Union that culminates with a balloon drop at midnight.
Get the full schedule and come to campus. After all, We are all Niners!
Join the crowd at the 49er Homecoming Football Game
3:30 pm Sept. 28 at Jerry Richardson Stadium
OK, so there is one 49er Homecoming event truly packs the house, and that's the Homecoming football game on Sept. 28. UNC Charlotte takes on Florida Atlantic at 3:30 pm in Jerry Richardson Stadium.
Gates open at 2 p.m., and when we last checked, a few tickets still remain.
If you can't get tickets, be sure to catch the action on Radio 730 (AM) The Game. The way that Charlotte is playing this season, there will be action! More
Bank of America Roval 400 puts NASCAR on a road course
2:30 pm Sept. 29 at Charlotte Motor Speedway
Don't miss the second coming of one of racing's most spectacular attractions – the second running of the Bank of America ROVAL 400.
The first road course race in the history of the NASCAR Cup Series Playoffs will see drivers duel door to door at Charlotte Motor Speedway. Details
Let CATS take you to the Roval 400!
Why hassle with crowded roads and speedway parking when you can ride to the Roval 400 by LYNX and bus?
On Sunday, September 29, 2019, CATS will operate bus service from the LYNX Blue Line J.W. Clay Blvd. Station to Charlotte Motor Speedway for the Bank of America Roval 400.
The bus service will begin the day of the race, starting at 10 a.m., and will operate every 20 minutes until 2:00 p.m. Customers can ride to the J.W. Clay Blvd Station from any of the 26 LYNX stations. Round-trip fare for the LYNX Blue Line AND the Speedway shuttle bus is just $4.40.
Get all of the CATS shuttle details
Pennzoil AutoFair on Oct. 17-19
Oct. 17-19 at Charlotte Motor Speedway
The world's largest automotive extravaganza, the Pennzoil AutoFair, returns to Charlotte Motor Speedway on Oct. 17-19, bringing together thousands of hot rods, muscle cars, exotic sports cars and classic automobiles.
With over 10,000 automotive vendor displays, a massive manufacturers' midway, a kids' Play Zone, fun fair food and more, there is something for every member of the family to enjoy. Details and tickets
Good times without the big crowds!
Along with the giant festivals, University City will also host several unique events in the next few weeks.
Fall Plant Sale at UNC Charlotte Botanical Gardens
9 am-3 pm Oct. 4-5; members preview sale, noon-3 pm Oct. 3
Choose from an outstanding selection of native and non-native hardy shrubs, trees, perennials, wildflowers, ferns and cool weather annuals.
This is a great opportunity to ask questions of the gardens' knowledgeable staff and volunteers. Details
16th annual Oktoberfest at Wine Vault
2-5:30 pm Oct. 13 at the Wine Vault, 9009 J.M. Keynes Drive at the Shoppes at University Place
"16 years of helping the Biology Department raise money! 16 years of offering one hundred different beers! 16 years of no hassle, no long lines, and no pretentious beer snobs!" That's how the folks at the Wine Vault describe their annual celebration of all things hoppy.
We hear that Oktoberfest at the Wine Vault will have 100 different beers available to try. Sounds like a challenge! Details
University Homecoming Festival at Armored Cow Brewing
Noon-6 pm Sept. 28 at Armored Cow Brewing, 8821 J.W. Clay Blvd. at University Place
Enjoy beers, music and more as University City's first authentic brewery toasts all Charlotte 49ers past and present and the suddenly impressive 49ers football team!
Enjoy the homecoming game on big-screen TV as the 49ers take on Florida Atlantic. And if we lose, you can cry in your Armored Cow beer! Details
6th Annual World Feast at St. Thomas Aquinas Church
5-9 pm Oct. 18 and 11 am-7 pm Oct. 19 at St. Thomas Aquinas Catholic Church, 1400 Suther Road near campus
Celebrate the growing global diversity of University City with this two-day event featuring food tents from over 15 countries, music, many games and even a climbing wall. Details