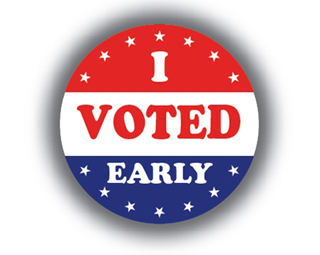 The 2019 primaries for Charlotte Mayor and City Council take place on Sept. 10. Democrats have many candidates on the primary ballot for mayor, at-large council seats and University City's District 2 and 4 seats. Early voting continues through 7 pm Friday.
The best place to get voter information is the Mecklenburg County Board of Elections. You can get a sample ballot, voting location and other details at the Board of Elections website.
Vote early through Friday, Sept. 6
Early voting continues 10 am-7 pm daily through Friday, Sept. 6, at several locations around Charlotte including the former Pier 1 store at 8802 J W Clay Blvd. in University Place. Directions
The Hal Marshall Center at 618 N. College St. in uptown is open 8 am-7 pm through Sept. 6.
Here is the list of all early-voting locations.
General primary election information
The 2019 Primary will take place 6:30 am-7:30 pm Sept. 10. A second primary may be held on Oct. 8, if necessary.
The general election on Nov. 5 will also include the election of at-large members of the Charlotte-Mecklenburg Board of Education and a countywide vote on whether to increase the Mecklenburg County sales tax from 7.25 percent to 7.50 percent to help fund arts, parks and education.
Who's running in the primaries?
The Charlotte Observer has published several articles about the candidates for mayor and the Charlotte City Council. Here is some basic information and links to each article.
Charlotte mayor
Democratic Mayor Vi Lyles seeks to become the first mayor to win a second term since Democrat Anthony Foxx in 2011.
Lyles, 67, faces four Democrats in the Sept. 10 primary. Three — Roderick Davis, Tigress McDaniel and Lucille Puckett — have each run for office multiple times. One, 20-year-old student Joel Odom, is a political newcomer.
One Republican, David Michael Rice, is vying in November.
Charlotte City Council District 2
Four Democrats and one Republican are running for Charlotte City Council from District 2.
The district's current council member, Democrat Justin Harlow, announced this summer that he would not seek re-election.
Democrats include Jeremy Arey, Jessica Davis, Malcolm Graham and Antoinette (Toni) Green. The Republican contender is Jacob Robinson.
Charlotte City Council District 4
Six Democrats and one Republican are seeking the Charlotte City Council seat for District 4.
Incumbent City Council member Greg Phipps announced that he is not seeking re-election after serving three two-year terms since 2013.
Democratic candidates include Richmond Baker, Gabe Cartagena, Charlene Henderson, Renee Perkins Johnson, Charles Robinson and Sean Thompson. Brandon Pierce is the Republican candidate.
At large City Council seats
Seven Democrats, including 5 City Council incumbents, are running for the four at-large seats up for election on Nov. 5.
Joshua Richardson is the one Republican seeking an at-large seat.
Democratic candidates include at-large incumbents Dimple Ajmera, Julie Eiselt, James Mitchell and Braxton Winston; District 3 incumbent LaWana Mayfield; and newcomers Jorge Millares and Chad Stachowicz.