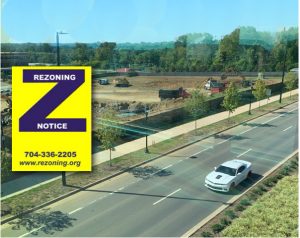 Scores of properties along North Tryon Street near University City's LYNX light-rail stations could soon have new zoning that will provide for more urban development near the stations, along with higher standards regarding issues such as walkability, public space and architecture.
The City of Charlotte seeks to rezone these properties and thousands more near LYNX stations to ensure that city's vision for transit-oriented development becomes reality.
A rezoning petition was recently filed by the city for 2,640 parcels totaling 1,915 acres within short walks of the Blue Line transit stations.
The petition asks the city to replace a wide range of office, commercial, residential and industrial zoning categories with four variations of the recently approved Transit Oriented Development zoning.
What are Transit Oriented Development Districts?
The TOD zoning classifications seeks to create walkable urban neighborhoods within a half mile of each LYNX station.
According to a city planning website, "The purpose of the Transit Oriented Development (TOD) Districts is to encourage and enable the development of moderate to high-intensity, compact, mixed-use urban neighborhoods near transit stations where people can live, work, shop, dine, and pursue cultural and recreational opportunities while enjoying a range of mobility choices.
"TOD development standards, combined with limits on auto-centric uses, are designed to create vibrant neighborhoods with a robust network of streets, sidewalks, and bicycle paths, providing safe and convenient access to transit stations.
"The TOD zoning districts allow taller buildings and more building density while requiring higher standards regarding issues including walkability, public space and architecture."
Light-rail expansion fueling a burst of redevelopment
The opening of the LYNX Blue Line Extension in March 2018 has sparked massive new development along the LYNX corridor between Center City and UNC Charlotte.
Currently only about a quarter of all land envisioned for this type of development near the stations has the new TOD zoning.
If the city council Oks the new zoning for the additional 1,915 acres, property owners seeking to redevelop their parcels in the future will need to follow the requirements of the new zoning or convince a future city council to apply a different zoning classification.
The Charlotte Observer reports that the city expects to hold a public hearing on the zoning change in October and possibly vote on whether to adopt the changes in November.
Learn more