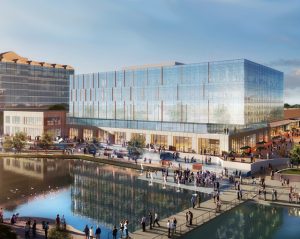 News Release – Commercial real estate development firm EB Arrow has filed a rezoning petition for 20.5 acres on the east side of J.W. Clay Boulevard in University City where the company is planning a mixed-use, walkable lakefront community called Waters Edge at University Place.
Charlotte City Council has scheduled a public hearing on the zoning change for its June 17 monthly zoning meeting. The council could vote as soon as July 15 on whether to approve the request.
Office building, apartments and lakefront park in Phase I
If approved, the rezoning would allow for the first-phase development of a five-story, 182,000-square-foot Class A office and civic building with ground-floor retail; NOVEL University Place, a 308-unit garden-style multifamily community developed by Crescent Communities; a 2.5-acre lakefront linear park featuring a children's play area; and the refurbishment of a significant portion of the one-mile multiuse pedestrian trail encircling the lake at University Place.
The plan is consistent with the University City Area Plan, which recommends mixed-use including residential for the site, and would meet many of the goals of University City Partners' master plan for the J.W. Clay area, which emphasizes walkability from light rail, connectivity and civic space for people to gather near the lake.
Acquired by EB Arrow late last year, Waters Edge is located less than half a mile from the J.W. Clay Boulevard Station on the Lynx Blue Line and less than one mile from the Barton Creek Greenway, providing connectivity and access to miles of existing greenway trail via the Mallard Creek and Clark's Creek Greenways as well as access to UNC Charlotte, Atrium Health University City and other office and retail centers in the area.
A 'vibrant, walkable activity center'
"This is an exciting opportunity to create a vibrant, walkable activity center in University City," said Greg Wattson, Executive Vice President of Development at EB Arrow.
"With the recent opening of Charlotte's light-rail extension and the need for multifamily and office space in this submarket, the time is right to redevelop this property.
"We look forward to continued discussions with the city and with area leaders as we work to deliver a project that will truly benefit the neighborhood."
Waters Edge at University Place would feature one of the first new Class A office developments in University City in more than 10 years. Called Reflection, the five-story building design by Gensler includes striking cantilevered glass and 10-foot ceiling heights that offer expansive views of the lake and the surrounding development while maximizing natural light for office users.
A design element of vertical fins cladding the building's high-performance glass would create a pattern resembling the flow of water, and a second-floor terrace would overlook and engage with a pedestrian plaza at the north end of the building.
A festival street capable of being programmed for a variety of events and activities would connect the pedestrian plaza to the apartment community and to the walking paths encircling the lake.
Possible new home for UCity Regional Library
EB Arrow is in discussions with the University City Regional Library about a potential relocation to the proposed office building.
The plans contemplate a two-story space for the library featuring a separate exterior entrance and an expansive lakefront patio. Plans for the building also include a 2,500-square-foot café overlooking the lake.
Future phases at the site would include medium-density residential development plus additional office space or a hotel.
Based in Dallas, EB Arrow targets key opportunities for urban renewal, revitalizing properties in ways that are authentic to local culture.
Its signature projects include Burbank Town Center in Burbank, Calif.; The Hill in Dallas, Texas; Paseo Colorado in Pasadena, Calif; and Lloyd Center in Portland, Ore.
Construction could start in early 2020
EB Arrow is seeking a MUDD-O district for the property, and a rezoning hearing is expected to take place on June 17. If approved, the company would start demolition of the existing buildings by the first quarter of 2020.
Michaels, Office Depot and Ross Dress for Less will likely relocate and join Guitar Center at an existing retail center also owned by EB Arrow on the opposite side of J.W. Clay Boulevard.
Commercial real estate services firm JLL will lease the new office building, and EB Arrow plans to partner with a local retail brokerage team to assist any tenants displaced during construction and help them find alternative space.
Learn more
Waters Edge website – For more information about the proposed development, please visit watersedge-universityplace.com.
Rezoning details – For more information on the rezoning request (Petition 2018-151), click here. The public hearing on the request is scheduled for the Charlotte City Council's monthly zoning meeting on June 16 at the Charlotte-Mecklenburg Government Center, 600 E. 4th St. The hearings start at 6 pm in the main meeting hall. Parking is available in the deck directly across Davidson Street from the government center. Directions
About EB Arrow
EB Arrow is an experienced commercial real estate investment firm specializing in mixed-use, multi-tenant and single-tenant retail properties located throughout the United States.
The company identifies properties with redevelopment potential and creates value through a disciplined approach to development, leasing, asset management, investor relations and marketing. EB Arrow's track record includes $3.5 billion in completed transactions and access to high-quality properties through strong market relationships. For more information, visit eba-us.com.