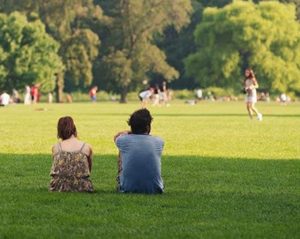 Our community's last great chance this year to speak out for more parks comes Thursday, as our County Commissioners seek our opinions on a proposed budget with 9.1% more spending in the coming year yet absolutely NO FUNDING FOR NEW PARK LAND!
The public hearing on the draft 2020 budget will start at 6 p.m. Thursday, May 9, at the Charlotte Mecklenburg Government Center. BE THERE to speak, show support for parks, or both!
Our united message WILL MATTER
Our commissioners just received County Manager Dena Diorio's draft 2020 budget and will spend the rest of May hammering out the final plan for spending $1.9 billion in county tax dollars.
The public hearing on Thursday is our big chance to speak up for parks! Tell our county leaders that the last decade of minimal investment in parks must end. We must preserve land for parks now, before that land is lost to development.
Time IS running out!
Our county's population has grown by nearly 200,000. Property prices have exploded. New neighborhoods, office parks and shopping centers are swallowing up land that might have made good parks both large and small.
Even a year's delay in securing future park sites will be disastrous in high-growth areas such as near the new LYNX light-rail stations along North Tryon Street.
Thousands of people will eventually live near each station. Without money NOW to buy land for parks, these urban centers may never have parks where residents can play, keep fit and find peace.
On June 4, commissioners will vote on the final budget that takes effect on July 1, 2019. We have perhaps three more weeks to convince commissioners to add money for park land purchases.
How to speak your mind
Don't miss your chance to be heard about the need for more park land!
The county budget hearing will start at 6 pm Thursday, May 9, at the Charlotte Mecklenburg Government Center, 600 E. 4th Street in uptown Charlotte. Park for free across Davidson Street at the municipal parking deck.
Sign up to speak – Click here to sign up on line to speak at the budget hearing. Click here for details on how you can sign up on Thursday prior to the event.
Email commissioners – Click here to email our county commissioners about your concerns.
Watch the hearings online – The hearing will be broadcast live. Watch here
Learn more about the budget and parks
See the draft budget – Click here for details of the 2020 Mecklenburg County Budget, which will take effect July 1, 2019.
Visit Voices4Parks.org to learn more about the Charlotte-Mecklenburg's urgent need for more and better parks.
Thank you for helping us build a better community for future generations!
Darlene Heater
Executive Director, University City Partners