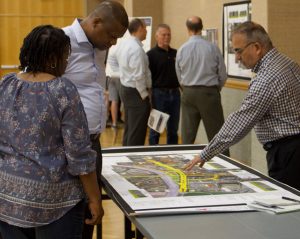 Last updated April 29, 2019
An information meeting to explain and get feedback on University City's biggest upcoming road project drew more than 100 people to UNC Charlotte on April 23.
The project, set to start construction in about 3 years, will widen NC 49 to six lanes near campus, launch a new highway to Independence Boulevard and close a busy railroad crossing. At least two critical decisions remain to be made.
The path of the new highway once it crosses the NC Rail Corridor and nearby Hanberry Boulevard. One option would slice through woods and wetlands planned for a future park.
How to lower University City Boulevard several feet while maintaining high traffic volume between I-485 and the university campus. One option would require removing several commercial buildings.
The drop-in information meeting took place in the Cone University Center, where visitors could move through several information stations dealing with various aspects of the three projects.
State's reason for six lanes
A short video display explained why the NC Department of Transportation believes that University City Boulevard (NC 49) needs to be widened to six lanes between I-485 and John Kirk Road and redesigned to eliminate left turns from cross streets such as Mallard Creek Church Road. Watch the video.
University City Boulevard carries more than 40,000 vehicles per day, with significant rush-hour congestion and numerous accidents, particularly at the Back Creek Church Road/Pavilion Boulevard intersection. Transportation planners estimate that the volume will double in 20 years.
A state Transportation Department staff member said the new design will accommodate that greater volume and cut accidents while providing safe movement for pedestrians and cyclists via 12-foot-wide multi-use paths and special crossing points located midway between intersections.
University City Partners opposes widening
University City Partners has opposed widening NC 49 west of I-485 for several reasons – starting with the impact of building an imposing 6-lane-wide barrier to thousands of students, faculty and staff seeking to walk or bike to campus from nearby apartment communities and neighborhoods, and to walk to nearby restaurants and shops from student housing on campus.
Building a roadway for 80,000 vehicles per day that stops at John Kirk Road only makes sense if the state intends to eventually continue that high-volume highway all the way to the I-85 interchange on North Tryon Street.
One alternative would be to encourage traffic heading into Charlotte on NC 49 to use I-485 and I-85 rather than pass through the university district.
Two design challenges
While much of the project's design has been completed, state staff and consultants said that two major issues remain, both related to the NC Railroad Corridor and construction of the new highway that will begin where Mallard Creek Church Road now ends at University City Boulevard.
The first issue is how to maintain traffic flow while actually lowering University City Boulevard several feet near the Mallard Creek Church Road intersection.
The new Eastern Circumferential highway must go under the existing railroad line paralleling University City Boulevard. A bridge for the future highway already exists, built a few years ago when the state overhauled the NC Rail Corridor between Charlotte and Raleigh to increase the volume and speed of both freight and passenger trains.
Because the tracks are so close to University City Boulevard, the state will need to lower that road and its intersection with Mallard Creek Church Road by several feet so that the new highway can pass under the tracks and join up with the existing roads.
The project planners have come up with two options: either lower one side of University City Boulevard at a time while trying to maintain traffic flow on the other side or reroute the traffic onto a temporary path between the tracks and the existing roadway.
That latter option is simpler but would require the state to buy and remove several commercial buildings.
Highway through future parkland?
The second issue is deciding the final path of the new roadway once it crosses Hanberry Boulevard. Government regulations require planners to submit at least two alternatives.
The one first proposed by planners (shown in yellow) would continue on a more or less straight line until it reaches Back Creek Church Road near Wyndham Pointe Drive.
The other alternative (shown in purple) would have the new roadway turn eastward shortly after crossing Hanberry Boulevard and connect into Back Creek Church Road just north of where the creek now crosses that road. This path would cut through 34 acres of woods and wetlands that Mecklenburg County bought in 2014 for a future park, as well as additional land that might also be added to the park.
Other concerns – property values, neighborhood access
State staff and consultants said that most visitors came to get more details about the projects, beyond what is available on the project's website and in news reports.
One couple asked whether closing the Back Creek Church Road railroad crossing might lower the value of their home if people had trouble getting out of their neighborhood and onto the new Eastern Circumferential.
Another visitor wanted to make sure that residents in the Faires Farm, Villages at Back Creek and University Heights neighborhoods would have a signalized intersection with the new highway.
The most direct access these neighborhoods have now to University City Boulevard and I-485 is via a non-signalized intersection at Back Creek Church Road.
Current plans for the Eastern Circumferential show a traffic signal at Hanberry Boulevard, one staff person said, but traffic studies also suggest that rush-hour traffic heading north on the new highway might back up to Hanberry Drive or beyond.
State continues to take public comments through May 9
The NC Department of Transportation has created a project website with extensive information and a survey that the public can use to share their thoughts and concerns regarding the project. The project staff will review public comments and may revise plan.
The public can continue to submit comments about the project via phone, email or by mail through May 7, 2019. For additional information or to mail comments, contact Wilson Stroud, NCDOT Project Manager:
Mail address: 1595 Mail Service Center Raleigh, NC 27699-1595
Phone: 919-707-6045
Email: wstroud@ncdot.gov
Next steps
Once the plan is finished, An environmental assessment will be completed of the project, with the project timetable calling for the environmental assessment being completed in late summer 2019. If the project receives a finding of no environmental significant impact, the state can proceed with the project.
The next step would be right-of-way acquisition.
The state's draft 10-year Transportation Improvement Plan shows funding to begin construction would be available in July 2022. Work could start later that year, with completion expected in 3-4 years.