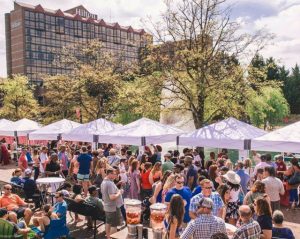 Join us April 13 for Charlotte's most spirit-filled springtime festival – the University City Wine Fest.
Spend the afternoon lakeside at University Place sampling and learning about fine wines from two dozen wineries, plus craft beers and spirits!
One ticket covers all the beverages you can consume (responsibly) at our event.
Don't miss 3 new Wine Fest Weekend events at University Place
The third annual Wine Fest is better and BIGGER than ever – in fact, three days bigger!
Wine Fest Weekend now spans four wine-themed events. Along with our signature Wine Fest on Saturday, the weekend features:
Taste, Sip & Stroll – Tasty bites, lively arts, wine and more. 6-9 pm Thursday
Wine Fest Evening Dinner – Sumptuous dining and exquisite wines. 6:30-9 pm Friday
Wine Fest Sunday Brunch – Lakeside at Famous Toastery. 11 am-2 pm Sunday
"We've seen an increase in interest and attendance for the University City Wine Fest each year and are thrilled to grow the festival from a one to four-day event," says Darlene Heater, Executive Director of University City Partners.
"The scenic boardwalk with easy access to LYNX makes for a perfect location to host the festival each year. I'm excited for our new partnerships with area restaurants to host a four-course dining experience, brunch and taste, sip and stroll event to create an unforgettable kick-off to spring."
Wine lovers rejoice! A day to remember
Saturday's signature Wine Fest will give guests the rare opportunity to choose from among more than 100 wines from 25 wineries.
Tim Wallace of the Wine Vault once again has selected the wines for the event. Many of the people pouring the wines will be able to talk knowledgeably about both the wineries and the specific wines.
Besides the bountiful wine, guests will also be able to enjoy craft beers and spirits, live music and interactive entertainment. University Place restaurants will be open for your dining enjoyment, too.
Get tickets now!
Your ticket will cover all the beverages you can consume (responsibly) at our event.
Ticket choices:
General admission: Enjoy the festival from 2 to 6 pm for $35.
Early Entry: Enjoy the festival from 1 to 6 pm for $40.
Grab your wine palate, invite your friends, get tickets and enjoy!
3 more days, 3 more ways to enjoy Wine Fest Weekend
Taste, Sip & Stroll the night away!
Get a great start to Wine Fest weekend. Join us lakeside on the University Place boardwalk on April 11 for Taste, Sip & Stroll – a night of tasty restaurant bites, classy wine, crafty brews, lively local arts and the uniquely Carolinas Alternative rock music of Swim in the Wild.
All of this for just $15 per person! DETAILS AND TICKETS
A memorable feast: the Wine Fest Evening Dinner
Fine wines are meant to be enjoyed with great meals. That's why we proudly introduce the first annual Wine Fest Evening Dinner, Friday, April 12, at University Place.
The menu for this special night has been crafted by Executive Chef Eric Litaker of Suffolk Punch Culinary Café and Taphouse.
From Sautéed Prince Edward Island Mussels to Seared Pekin duck breast, showcase Litaker's unique culinary touch
The wine pairings for our dinner are sure to delight, as well.
Reserve your places at this truly memorable meal for just $85 per person. MORE DETAILS AND TICKETS
Mimosas and more at Wine Fest Sunday Brunch
Famous Toastery at University Place will roll out the reds and whites carpet on April 14 for the Wine Fest Sunday Brunch.
Enjoy all of the Toastery breakfast and lunch classics plus several red and white wines, Mimosas and other adult specialty drinks.
No event ticket is required. Just order off of the Toastery menu, and enjoy!
Famous Toastery at the Shoppes at University Place is located lakeside next to the main bridge, at 8933 J.M. Keynes Drive, Suite 2.
The official Wine Fest Sunday Brunch hours are from 11 am to 2 pm.
By the way, Famous Toastery at University Place is open 7 am-3 pm daily. You can order alcoholic beverages beginning at 10 am on Sundays, too.
All Wine Fest events are a short walk from the LYNX jW Clay Blvd Station
All four events are within a five-minute walk of the JW Clay Blvd LYNX light-rail station. Trains run every 15 minutes or more frequently daily until after midnight.
If you haven't ridden the LYNX before, you'll enjoy the comfort, convenience and safety.