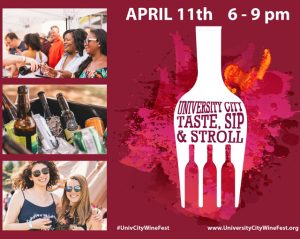 Get a great start to Wine Fest weekend. Join us lakeside on the University Place boardwalk on April 11 for Taste, Sip & Stroll – a night of tasty restaurant bites, classy wine, crafty brews, lively local arts and the uniquely Carolinas Alternative rock music of Swim in the Wild.
Here's the lineup – all yours for just $15 per person. Get tickets online now.
Seven restaurants to savor – What's your dining pleasure? Carolina seafood, smoked barbecue, Japanese dishes, decadent donuts and much more will be served up all night long by our friends at Boardwalk Billy's, Famous Toastery, City Barbecue, The Bistro, Love Sushi, Chicken Salad Chick and Uncle D's Southern Donuts.
Beverages – The experts at the Wine Vault will be pouring their favorite wines and craft beers. Your admission price covers the cost of your first two glasses. Get additional beverages for an extra cost.
Art to admire and buy – Members of the Charlotte Art League will display their works for your enjoyment and buying pleasure. Get a preview of what's in store by visiting the Art League's Facebook page.
Sounds by Swim in the Wild – The Taste, Sip & Stroll outdoor stage will rock with Swim in the Wild's unique blend of rock guitars, banjos and ukulele. Get samples of two very different songs: "Sway," featuring an electric banjo, and the band's guitar-driven video, "Love like the Wind".
Get your tickets now
Taste, Sip & Stroll will take place 6-9 pm Thursday, April 11, on the boardwalk at the Shoppes at University Place.
Tickets are $15 per person (you must be 21 to take part). Buy tickets online now.
Tickets will also be available at the event, if not sold out.