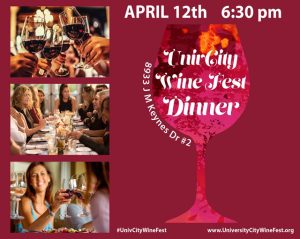 Fine wines are meant to be enjoyed with great meals. That's why we proudly introduce the first annual Wine Fest Evening Dinner, Friday, April 12, at University Place.
Guests will be treated to unique dishes matched with exquisite wines.
The menu for this special night has been crafted by Executive Chef Eric Litaker of Suffolk Punch Culinary Café and Taphouse.
Under Litaker's guidance, Suffolk Punch offers an ever-evolving menu pairing locally and sustainably sourced seasonal ingredients with scratch-made processes.
Our Wine Fest dinner menu, from the Sautéed Prince Edward Island Mussels to Seared Pekin duck breast, showcases Litaker's unique culinary touch.
Fine wines for a wonderful meal
The wine pairings for our dinner are sure to delight, as well.
All come from the renowned Robert Mondavi Winery. Two have earned Wine Spectator and Wine Enthusiast scores of 90 or higher.
The Auros Cabernet was crafted by Mondavi Vineyards winemaker Megan Schofield with hand-selected fruit from four revered Napa Valley sub-appellations: Oak Knoll, Oakville, Rutherford, and Stag's Leap.
Each sip is sure to be memorable!
Reserve your place now
The dinner will take place 6:30-9 pm Friday, April 12, lakeside at University Place at 8933 J.M. Keynes Drive Unit 2. Cost per person is $85. Seating is limited. Click here to buy tickets.
Wine Fest Eve Dinner Menu
First Course
Bay scallop cevieche, fresh masa tostada, charred pineapple salsa
Wine pairing: Mondavi Oakville Fume Blanc 2015
Second Course
Sautéed P.E.I. mussels, chorizo, saffron beurre blanc, cilantro oil, charred campagne bread
Wine pairing: Mondavi Reserve Chardonnay 2016
Third Course
Seared Pekin duck breast, house made cavatelli, roasted kalettes, maitake mushroom dashi
Wine pairing: Mondavi Maestro Red Blend 2014
Fourth Course
Moroccan spiced lamb chop, Jerusalem cous cous, roasted broccolini, herb pistou, harissa oil, micro leeks
Wine pairing: Mondavi Auros Cabernet 2015
Wine pairings for the evening
Robert Mondavi Winery Oakville Fume Blanc 2015
Succulent ripe white peach, lemon verbena and lime blossom are made all the more vibrant by a subtle hint of fresh spearmint and herb. While bright and refreshing, the mouth-watering fruit sits on the palate with a creamy weight and lingers on the deliciously long finish. Robertmondaviwinery.com
Robert Mondavi Winery Reserve Chardonnay 2016
Ripe Asian pear, juicy red apple, lemon curd and marzipan flavors set the scene for the real show-stopper of this wine: the rich texture fills the palate with voluminous flavor and leads slowly into a long, lingering finish. Robertmondaviwinery.com
Robert Mondavi Winery Maestro Red Blend 2014
A crescendo of dark, juicy plum and cassis fruit, violet, cinnamon, and unsweetened cocoa linger on sumptuous sips full of vibrant flavor and plush tannins. Robertmondaviwinery.com
Mondavi Auros Cabernet 2015
Crafted by Mondavi Vineyards winemaker Megan Schofield , this deeply concentrated Cabernet Sauvignon opens with dark fruit aromas of cassis, blackberry, and dried blueberry, underscored by notes of violet and graphite. The rich, full-bodied palate unveils opulent layers of blackcurrant jam, roasted coffee, tobacco, dried fig, and vanilla bean. Soft, supple tannins frame a plush, velvety finish. Wine.com