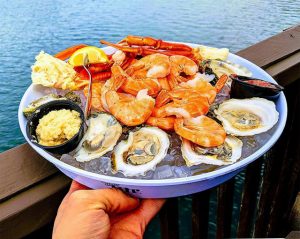 Getting hungry? Chew on this!
Three UCity restaurants make the list of popular dining spots, says online reservation service nowait.com.
The new wrap restaurant Wrapway gets great reviews on Nextdoor.com.
Check out these new places near the URP: Bachi at Cochran Commons and Peno Mediterranean Grill at The Arbors.
Nowait.com customers like these UCity restaurants
Nowait.com makes its bread and butter helping hungry diners get reservations. Recently, local online news site CharlotteFive.com used nowait.com to compile a list of favorite places to eat among its customers.
Three University City restaurants in and near University Place made the list: Next-door neighbors Famous Toastery and Boardwalk Billy's, which overlook the lake at University Place; and Seafood Connection, which recently parked its longtime food truck to open up a permanent home overlooking Harris Boulevard near I-85.
Wrapway getting top marks
University City users of neighborhood news website Nextdoor.com have been posting positive mini-reviews of Wrapway, a Mediterranean fast-casual restaurant located near campus at 10221 University City Blvd.
Wrapway opened a few months ago and offers authentic wraps plus raw, vegan and vegetarian dishes.
Among the recent comments:
I just tried them for the first time. Absolutely delicious.
This place is yummy! The customer service is amazing!
Keep seeing it pop up on Nextdoor so I finally went. Great taste. (They) let me sample the options before buying. Check them out.
Wrapway is also earning praise on Yelp and Facebook.
Visit wrapway.us and learn more.
Try these new restaurants in Mallard Creek near URP
Looking for someplace new for lunch or dinner near University Research Park? Here are two.
Peno Mediterranean Grill opened in October at The Arbors shopping center on Mallard Creek Church Road. The Wilmington, NC-based restaurant has begun expanding along the coast and now to Charlotte.
Check out the Yelp reviews.
Peno is open daily at 2115 E. Arbors Drive. 980-224-9791 and penogrill.com.
Bachi, offering Japanese and Filipino dishes, opened late last fall in the Cochran Commons center at Mallard Creek and Mallard Creek Church Roads.
According to an online article at exploreclt.com, the restaurant's owners have 50-plus years of restaurant experience, mostly in Japanese restaurants. But you'll find many Filipino dishes sprinkled throughout the menu, says the reviewer.
Check out the exploreclt.com article and bachiclt.com.
Bachi is open daily at 2700 W. Mallard Creek Church Road. 980-819-7761 and bachiclt.com.