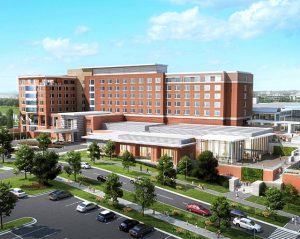 University City enters 2019 on the wings of perhaps our most transformative year in two decades. The Charlotte Observer and WSOC-TV recently reported that 2019 will bring even more advances. New housing, retail services, an entertainment district and a UNC Charlotte-focused hotel and conference center are all in the works, say the media outlets.
Much of that growth will take place near the LYNX light-rail line between uptown and UNC Charlotte that began operation last spring. Among the projects likely to move forward this year, say The Observer and WSOC-TV reports:
UNC Charlotte Conference Center – Work is expected to start soon on the $87 million project to build 226-room Marriott Hotel and conference center on North Tryon Street at the JW Clay Boulevard Station
Entertainment District and Topgolf – Topgolf, a 14.2-acre golf-focused facility, is expected to anchor a large entertainment district near the University City Boulevard Transit Station.
Live-Work-Play at University Place – The new owner of a key part of University Place has plans to transform aging shops and parking on the west side of the University Place lake into 300,000 square feet of new commercial space, 600 residential units and a public library
Armored Cow Brewery – University City's first brewery is under development along JW Clay Boulevard at University Place.
New Barton Creek Greenway – Mecklenburg County has started work on Barton Creek Greenway. The short greenway will link University Place to the extensive Mallard Creek – Clark's Creek – Toby Creek greenway network.
Get the details