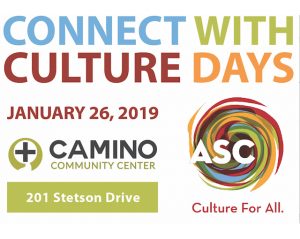 Explore arts, science and history experiences at 19 locations across Mecklenburg County on Jan. 25-26, including the Camino Community Center in University City on Jan. 26.
Organized by the Arts and Science Council, Connect with Culture Days feature scores of activities by dozens of arts, science and history groups. At the Camino Center, sample Afro-Brazilian dance, make friendship blankets, hear a Mariachi band and more.
Connect with Culture Days at Camino Community Center
From 10 am to 4:30 pm Jan. 26, the Camino Community Center will host art, music, dance and literacy programs. The center is at 201 Stetson Drive, a short walk from the University City Blvd LYNX Station on North Tryon Street. Directions
University City Partners is presenting the programs offered on Jan. 26 at the Camino Community Center. All programs are free. Here are details:
Read With Love (en Español & in English)
Presented by: Arts and Science Council
Ages: Pre-K
Time:  (en Español) 10 a.m. – 11 a.m. | (in English) 11:30 a.m. – 12:30 p.m.
Participate in a literacy workshop, developed by ASC, that teaches adult caregivers how to be more effective when reading with children. Registration is required.
Afro-Brazilian Dance Class
Presented by: UNC Charlotte
Ages: All ages
Time: 11 a.m. – 12 p.m.
Students of the UNC Charlotte Department of Dance will lead a community dance class, introducing basic Afro-Brazilian dance movement. This fun, energetic class is open to non-dancers and dancers alike.
Friendship Blankets
Presented by: Atrium Health
Ages: All ages
Time: 11:30 a.m. – 2 p.m.
If you can tie a knot, you can make a warm, cozy Friendship Blanket to share with neighbors in need. (No sewing needed.)
Grupo Los Morales
Presented by: Tosco Music
Ages: All ages
Time: 12 p.m. – 1 p.m.
Since 2002, Jesus Morales has been performing throughout NC with his son Alberto Morales and joined by Francisco Martinez, and Ceasar "DJ" Cuco. They have four CDs, most recently "Con Alma Latina" and were featured in the documentary "Latino Traditions".
Story Time with a Ballerina
Presented by: Charlotte Ballet
Ages: 4-7 years
Time: 2:15 p.m. – 3 p.m.
Engage your young readers with books that encourage language and reading skill development, and helps them grow into successful, life-long readers. Ballerinas from Charlotte Ballet will read several of their favorite children's stories. Children of all ages are encouraged to dress-up for this fun and engaging story time.
Music Performance
Presented by: Mariachi Gavilanes Gabriel
Ages: All ages
Time: 3:30 p.m. – 4:30 p.m.
Mariachi is a style of music and musical group performance that dates back to at least the 18th century, evolving over time in the countryside of various regions of western Mexico. But the Mariachi goes beyond music; it is the sum of a cultural revolution expressed through a group of musicians.
Culture Days elsewhere in Mecklenburg County
Click here for the full schedule of activities taking place Jan. 25-26 throughout Mecklenburg County.