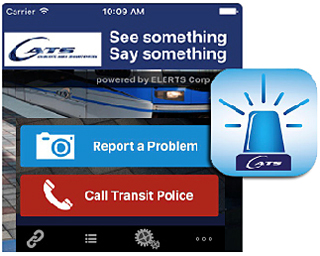 Charlotte Area Transit System is encouraging its customers to enhance their safety with a new smart phone app, the CATS See Say.
The app provides an easy and discreet way to get help, says BJ Johnson, with CATS Safety and Security.
"The app is monitored by Police Dispatch 24/7," Johnson said. "If an individual uses the app, a certified police dispatcher will get the alert, acknowledge that they have received the alert, and immediately send an officer to investigate, no matter what it is."
The simply designed app has a single page where people can write a short note about the problem, snap a photo (without flash), select the location of the problem, and submit it anonymously, if they prefer.
Johnson said that the app is a good alternative for reporting suspicious behavior without appearing to be calling 911. Yet the police will still respond immediately, she added.
More than 1,000 people have downloaded and used the free CATS See Say security app, Johnson said.
People have used the app to report everything from overflowing trash cans to suspicious bags left unattended.
To download the app
The app is available for both iPhones via the App Store and Android phones via Google Play. Search for CATS See Say.