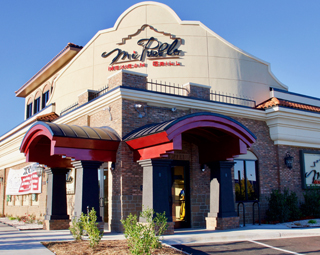 Mi Pueblo Mexican Grill has opened in the Belgate Center at 7003 University City Blvd., near IKEA.
This regional chain of restaurants began 20 years ago in Winston Salem – the realization of a longtime dream by Jesus and Maria Ruiz.
Mi Pueblo now has 10 locations statewide, offering a broad selection of lunch and dinner entrees.
Diners will find the usual Fajitas, burritos and enchiladas, along with vegetarian dishes, seafood dishes such as Camarones Acapulquenos (shrimp cooked in Mi Pueblo's special sauce) and numerous chicken and beef dishes.
University City's Mi Pueblo is open for lunch and dinner. Breakfast will be added soon, the website says.
Visitor reviews
Yelp visitors have given the new restaurant a 4-star rating across 18 reviews.
"The menu has a ton of options and there were some great bar offerings, as well," Wrote Meleah on Oct. 18. "The poblano was crazy spicy and really good."
"Chips arrived warm. Salsa was spot on. Entree was superb, and I especially loved their Pantherita!" wrote Melanee on Nov. 25.
About Mi Pueblo Mexican Grill
7003 University City Blvd. near IKEA. Directions
980-299-6107
Open 11 am-10 pm Mondays-Thursdays; 11 am-10:30 pm Fridays-Saturdays; 11 am-9:30 pm Sundays